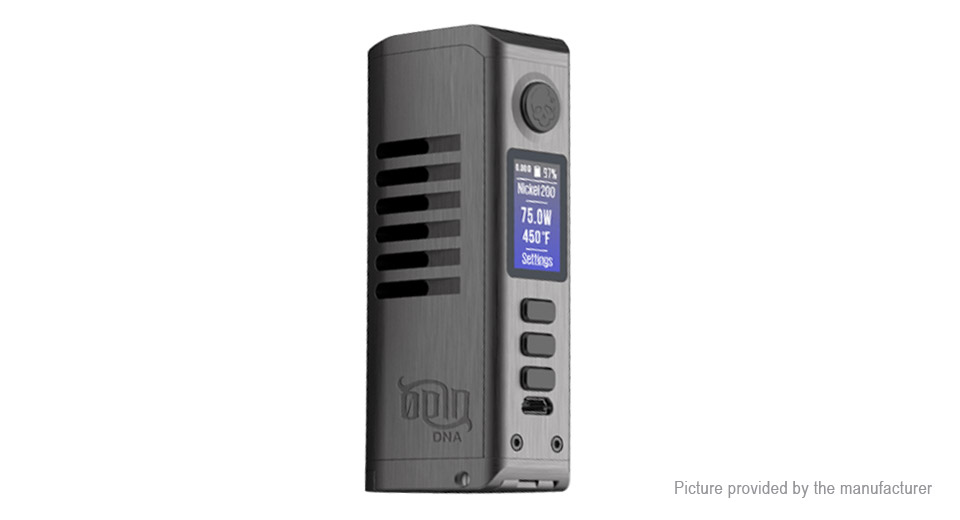 Product Description
DOVPO's Odin Mini Box Mod is a sleek vape mod created by Vaperz Cloud, Dovpo, and YouTube reviewer, The Vaping Bogan. This brushed gunmetal color unit has an Aircraft Aluminum Alloy 6061 T6 construction. It's an incredibly stylish, slim, and ergonomic box mod.
The Odin Miniis a follow up of its larger counterparts, Odin 200 and Odin DNA250C. The smaller design and shape of this unit make it ideal for on-the-go use. This device can also accommodate an atomizer up to 26mm.
It has a powerful, intuitive EvolvDNA75Cchipset, which offers excellent battery efficiency. This unit provides you with a customizable, intelligent interface. It alsooffers a maximum power output of 75 watts. It has a replay feature and a TFT color display screen of 0.96 inches.
Odin Mini features a micro-USB port, which you can use to upgrade the firmware. It offers onboard 5V/1A charging and requires a single 21700 high-drain battery. The battery does not come with the mod box. So, you will have to buy one separately.
The product provides you with numerous modes. These include temperature control, variable wattage, variable voltage, and TCR. The unit offers a temperature control range of 200 degrees Fahrenheit to 600 degrees Fahrenheit (93 degrees Celsius to 316 degrees Celsius). It has a variable wattage range of 1W to 75W.
The package includes an Odin Mini Mod, a sturdy USB Cable, and one pack of extra replacement battery wraps. It also has a comprehensive user manual, a battery usage warning card, a social media card, and one QC certificate.
Here are the dimensions of this unit:
Product weight: 128 g
Height: 90.5 mm
Depth: 32.9 mm
Width: 36.3 mm
Pros and Cons of DOVPO Odin Mini Vape Mod
Here are some pros and cons of DOVPO's Odin Mini Vape Mod:
Pros
It's an incredibly slim device that you can easily carry in your pocket for an on-the-go vaping session.
The 21700 form-factor battery provides you with an extended vaping experience.
The intuitive EvolvDNA75C chipset extends battery life and offers an intelligent, customizable
It offers multiple vaping modes, including variable wattage and temperature control.
The buttons are sturdy.
Cons
It's on the pricier end.
This unit does not come with a battery, which means you will have to buy one separately.
DOVPO's Odin Mini Box Mod is an incredibly slim and ergonomic vape mod. It's ideal for anyone looking for a portable vaping device. Odin Mini can provide you with a prolonged, customized vaping experience. However, it is a bit more expensive than the average digital mods. It uses an EvolvDNA75C chipset and a 21700 battery for enhanced vaping. It's an excellent mod to add to your collection!