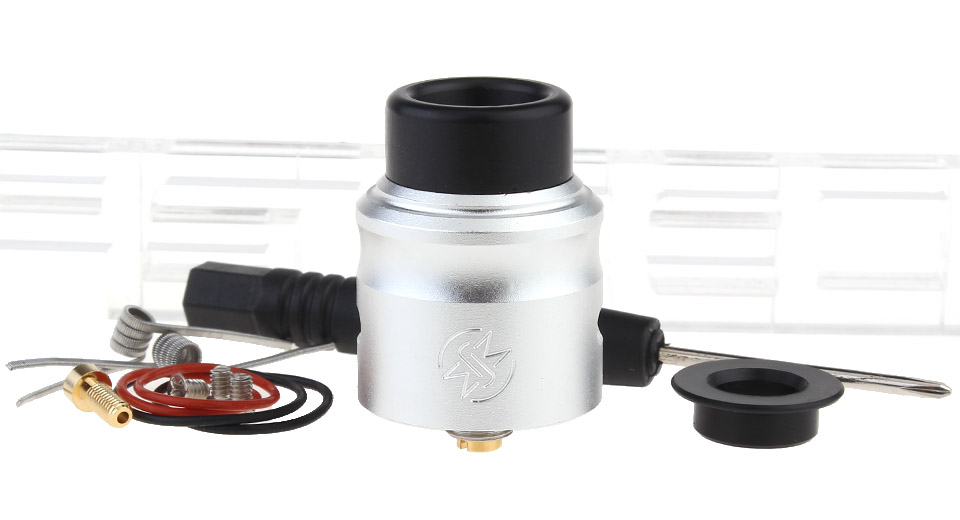 Product Description
The Nudge Styled Rebuildable Dripping Atomizer (RDA) is an authentic vape mod with a 510 threading connection. Thus, you can use it on various vape gear with a 510 connection for a more personalized vaping experience. Moreover, it has a removable 810 drip tip too.
The RDA has an aluminium construction primarily, with some parts of stainless steel construction. Therefore, you can expect this product to stay in good condition even after falling on the floor a few times. This RDA has an overall 24 mm diameter, which is relatively slim.
The Nudge Styled RDA has Staggered Z design posts. So, it is easy to build, which is a massive plus for beginner vape users. In addition to that, the RDA has 2 side-airflow slots, allowing for excellent flavors. This airflow system also produces a lot of vapor. So, you can expect an amazing vaping experience.
The vape mod also comes with a replaceable pin that allows you to use the tank on a squonk mod too. Also, it includes a peek insulator.
Pros and Cons of the Nudge Styled Rebuildable Dripping Atomizer Vape Mod
Here is an overview of the pros and cons of the Nudge Styled Rebuildable Dripping Atomizer vape mod:
Pros
This RDA has an unconventional airflow setup and coil placement design, but it works well. So, you can wick the coils with ease, even if you're relatively new to vape mods.
The 2 side-airflow slots allow for some awesome flavor with this RDA. It also produces thick clouds of vapor.
You can use this RDA for the non-cloud-chaser as well.
This RDA has excellent build quality. Thus, there are no leaking issues, which means you won't lose any vape juice, and it won't spill. So, the vape juice drips right down the center via the drip tip nicely.
The aluminium and stainless steel body of this vape modcan offer good durability.
The Nudge Styled RDA includes a drip tip adapter, a screwdriver for construction, 3 screws, 4 o-rings, and 2 coils.
It looks and feels great, which is great for its low price.
Cons
The build deck can be a bit tighter than some of its competitors. However, you can manage to fit two 3 mm coils on it with relative ease.
The design of the airflow system can be restrictive. As a result, it's not the best option for vape users who prefer Mouth to Lung (MTL). However, it's otherwise a great vape mod.
The Nudge Styled Rebuildable Dripping Atomizer is an amazing vape mod for the price. Despite it being sold at a much lower cost than many competitors, it looks and feels high-quality, thanks to the aluminium and stainless steel body. Moreover, it doesn't leak and offers easy building, making it accessible to more vape users.