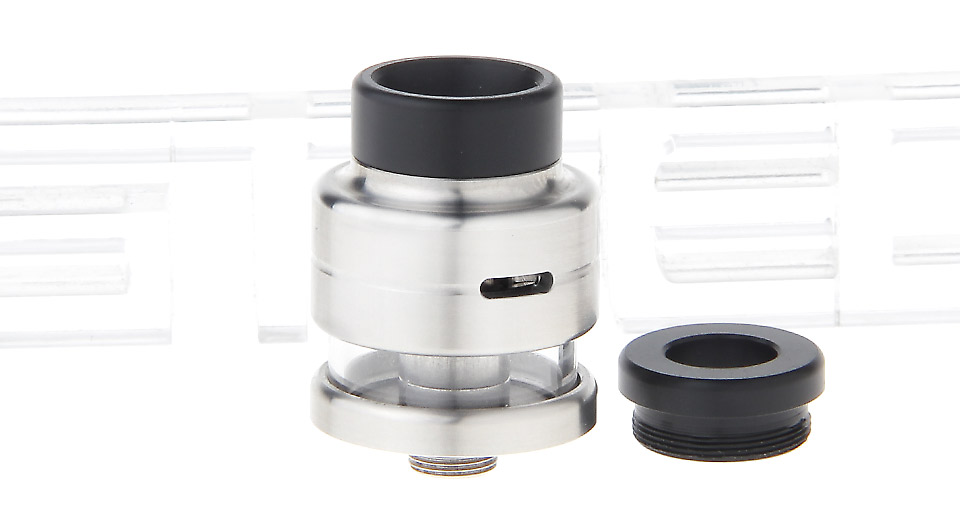 Product Description
The Coppervape Split Styled Rebuildable Tank Atomizer (RTA) vape mod has a beautiful glass tank with a 2ml vape juice capacity. The capacity is enough to prevent you from needing to refill the RTA frequently. The design is also slim (22mm) and fairly lightweight (25g). So, it's easy to carry around with you and fits in your pocket or purse nicely.
The RTA has a 316 stainless steel construction with some parts of other materials. So, you can expect the design to provide excellent durability and sturdiness. You won't have to worry about It getting damaged when you're on the go. Moreover, this RTA has what is known as a dual-pole design.
This vape mod has an adjustable airflow control system. Therefore, you can adjust it to suit your personalized vaping experience, making you get more out of your investment.
This RTA has a 510 threading connection, which is a common connection, so you can fit it onto many devices. It also has a thread-wide bore drip tip for easier assembly and connectivity.
Pros and Cons of the Coppervape Split Styled Rebuildable Tank Atomizer Vape Mod
Here is an overview of the pros and cons of the Coppervape Split Styled rebuildable tank atomizer vape mod:
Pros
This rebuildable tank atomizer has fantastic build quality. The glass vape juice tank looks and feels durable with no leaks. Its excellent build quality also means it has good machining.
The RTA has an adjustable airflow control system, allowing you to personalize your vaping experience.
Its 316 stainless steel body offers great durability and sturdiness.
The dual post design makes it really easy to build. So, you don't have to be an experienced vape user to make full use of this RTA.
The vape modis ideal for squonking with a very comfortable vaping experience.
It also produces amazing flavors with large amounts of vapor each time. So, it offers a consistent feel and taste.
The RTA comes with a 510 drip tip adapter.
Cons
The RTA is a little smaller than others. So, while that may look nice, it may make it a challenge to make the coil for it. Thus, this vape modmay be better suited for users with patience with building.
While the adjustable airflow system is a bonus, it can be complicated to adjust.
The o-ring on the top cap doesn't fit very well. So, you may have to change that if you are unlucky.
The Coppervape Split Styled rebuildable tank atomizer is a vape mod that offers a remarkable vaping experience at an affordable price. The design is a little small, so it can be challenging to set up. However, the small size also means that you have better portability.