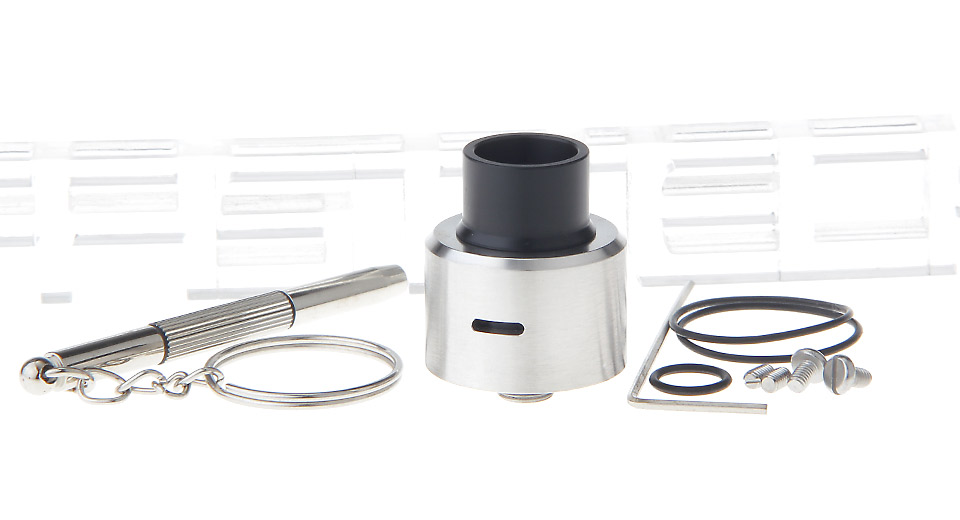 Product Description
The LE 86 BF Styled Rebuildable Dripping Atomizer (RDA) is a vape mod with a stainless steel construction. Thus, it offers exceptional durability, which is great for users who plan to use it daily. Also, the RDA is quite slim and lightweight. So, you can take it with you wherever you go. The measurements of this mod are as follows:
depth of 24mm
height of 31mm
width of 24mm
total product weight of 33g
The RDA's design also includes a deep juice well. So, you can store more vape juice, reducing the frequency of refilling it. Moreover, it has a wide bore drip tip. Its drip tip threading connection is 510 connection. This common threading connection allows you to connect this RDA with various vape gear easily. You can then have more control over how you customize your vaping experience.
The vape mod has an adjustable airflow system with dual air slits. You can control the airflow to ensure your vape experience fits your specific palate.
In addition to that, the RDA has a dual coil or single coil setup with a Delrin chamber reducer. The reducer is great for direct to lung (DTL) users. The system is simple too, so it's easy to build.
Pros and Cons of the LE 86 BF Styled Rebuildable Dripping Atomizer Vape Mod
Here is an overview of the pros and cons of the LE 86 BF Styled rebuildable dripping atomizer vape mod:
Pros
This RDA has great build quality even though it's significantly cheaper than other RDAs in the market. The stainless steel construction is one of the reasons why it feels great and sturdy in your hands. In addition to that, the material ensures that the device is durable and won't break from falls.
The RDA is great for both DTL and mouth to lung (MTL) users because of its adjustable airflow control system. Moreover, the Delrin chamber reducer makes this mod even more versatile. So, it is a good choice for various types of vape users. The great airflow also allows for some amazing flavors.
It comes with dual and single coil constructions. Thus, the vape mod offers users more possibilities with coil building. Moreover, it's also relatively easy to build than its competitors. As a result, new users will also be able to make the most out of this mod.
The RDA comes with a number of spare parts and other pieces in the pack. So, you can replace some parts in case they get damaged or lost. These parts include 3 o-rings, 4 screws, 1 Allen key, and 1 screwdriver for construction.
Also, a noteworthy point about this mod is that it has a very competitive price.
Cons
There are no noticeable cons to this device, especially considering the price.
The LE 86 BF Styled rebuildable dripping atomizer is a vape mod that offers great versatility at an affordable price.