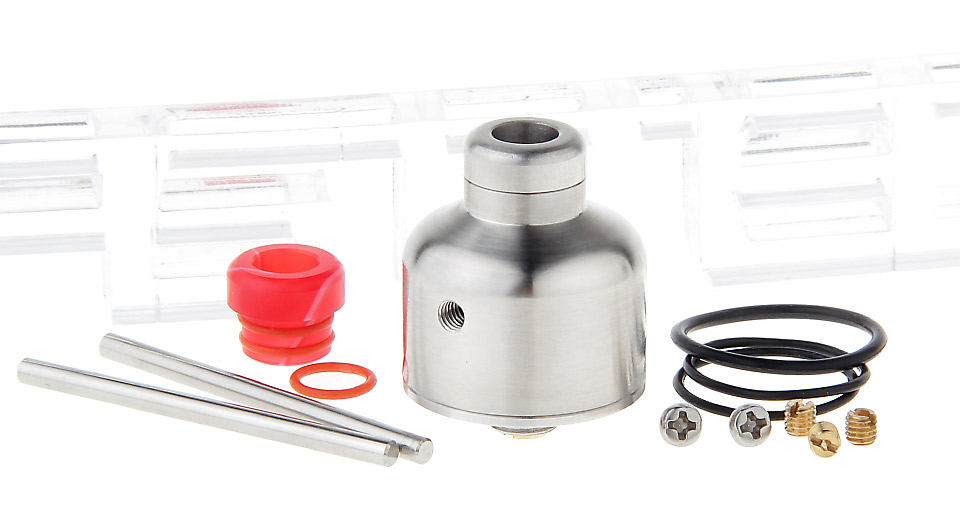 Product Description
The Coppervape Nipple Styled Rebuildable Dripping Atomizer (RDA) is a vape mod with a 510 threading connection. This is a common threading connection type common among different types of vape mods. So, you can use this RDA with various vape gear with ease. Connect different gear to completely personalize your vaping experience.
The RDA has an airflow control system with 2 air holes on the sleeve of the RDA. More airflow control allows you to make a vape experience unique and suited to your tastes.
The vape mod has 316 stainless steel construction. The steel cap and the drip tip are of the material. So, this material improves its overall durability, especially for daily use. Also, the RDA is relatively slim with a 22mm diameter. It's also quite lightweight. Therefore, it's easily portable, allowing you to carry it around without you even realizing it. The measurements of this mod are as follows:
depth of 22mm
height of 28.4mm
width of 22mm
total product weight of 30g
The RDA has a brass center post, which allows for better conductivity. That, in turn, improves the efficiency and consistency of your vaping. In addition to that, it has a single coil and dual coils setups that are vertical and horizontal. So, users have more choice with how they want to customize their experience.
Pros and Cons of the Coppervape Nipple Styled Rebuildable Dripping Atomizer Vape Mod
Here is an overview of the pros and cons of the Coppervape Nipple Styled rebuildable dripping atomizer vape mod:
Pros
This RDA offers excellent build quality despite it being in the budget-friendly range of vape mods.
It has a brass center post, which allows for better conductivity.
The RDA is great for MTL users thanks to its adjustable airflow control system. It's also good for restricted direct to lung (DTL) use. The chamber is also reduced. As a result, it produces outstanding flavors.
A stainless steel construction for a vape mod in this price range is excellent due to its great durability. So, don't worry about the parts breaking if you drop the device by mistake.
It comes with a range of coil building possibilities, including single and double coil.
The RDA comes with many spare parts in the pack. So, you will have spares in case something gets damaged during use. These parts include 3 o-rings, 5 screws, 2 SS accessories, and a spare PEEK drip tip.
An important aspect that sets this mod apart is its low price point.
Cons
It can be challenging to build for some users because of its small size.
The airflow control system can be challenging for new vape users to adjust.
It does not come with a bottom feeder pin.
The Coppervape Nipple Styled rebuildable dripping atomizer is a vape mod that offers excellent flavors and impeccable build quality at a very low price.