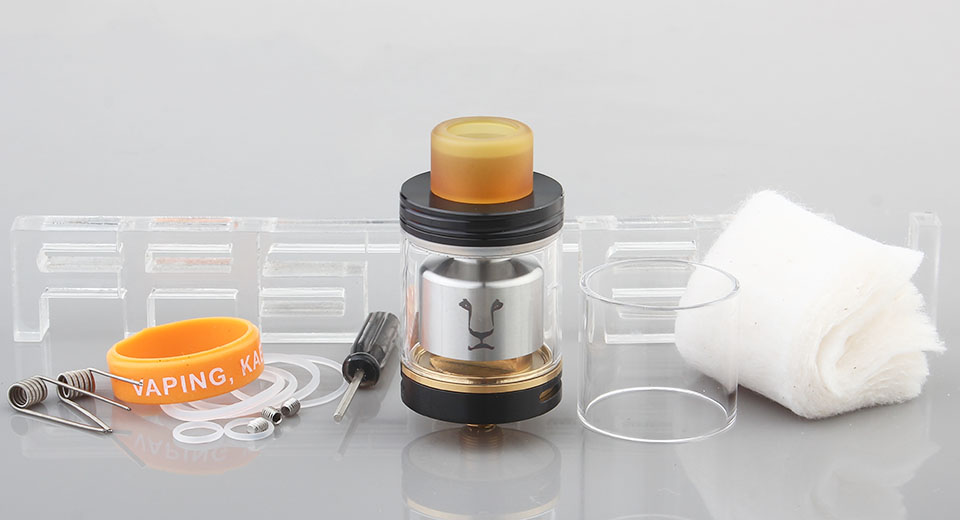 Product Description
The Authentic KAEES Solomon V3 Rebuildable Tank Atomizer (RTA) is a vape mod that has an e-juice capacity of 5.5 ml and includes an additional 3.5 ml glass tube. Also, it has a 25 mm diameter, making it easy to fit into your pocket or purse for easy portability.
This rebuildable tank atomizer provides fantastic flavor and various airflow options thanks to two internal airflow caps that you can interchange at any time. One of the caps is specifically for dual coil building and the other is for single coil building. Moreover, the airflow options coupled with its exceptional top airflow systems ensure that there's no leakage.
The RTA has a food-grade, stainless steel construction that looks and feels high quality. It also means that the vape mod is durable and won't get damaged easily when you carry it with you. Furthermore, the additional glass tube adds more character to the design.
The KAEES Solomon V3 has a 510 threading connection, making it easy to connect with other vape mods available in the market. Also, it has a 510 drip tip and 810 drip tip adapter available. Therefore, that along with the easy building thanks to the postless deck, makes this RTA a great option for any vape users who are looking for a great DIY building experience.
Pros and Cons of the KAEES Solomon V3 Rebuildable Tank Atomizer Vape Mod
Here is an overview of the pros and cons of the Authentic KAEES Solomon V3 rebuildable tank atomizer vape mod:
Pros
The RTA has a robust construction with a primarily stainless steel body. Also, the material is food-grade, so you don't have to worry about inhaling any harmful chemicals when vaping. The 25 mm-width design and lightweight tank make it easy to carry with you at all times.
It has a capacity of 5.5 ml and an extra 3.5 ml, making it a great option for those who enjoy long vaping experiences.
The postless deck on this vape mod makes it quick and easy to build and wick. So, even new vape users will manage to get the most of this RTA.
The RTA supports a single coil and double coils build for various airflow options. Therefore, the product is a good choice for many different types of vape users. Its airflow system also feels smooth regardless of what setting you use it on.
Its excellent build-quality prevents leaks, making it a safe and reliable product.
Also, the RTA's great build ensures a great flavor regardless of what juice you put into it.
The RTA comes with a spare parts pack, a screwdriver for construction, and a drip tip adapter.
Cons
The airflow domes look and feel low quality. Also, the domes are a little flimsy and fiddly, which can be a cause for concern.
The KAEES Solomon V3 Rebuildable Tank Atomizer is an affordable vape mod that's well-built, provides excellent flavors, and is easy to build yourself. Plus, its various airflow options make it a good choice for many vape users.