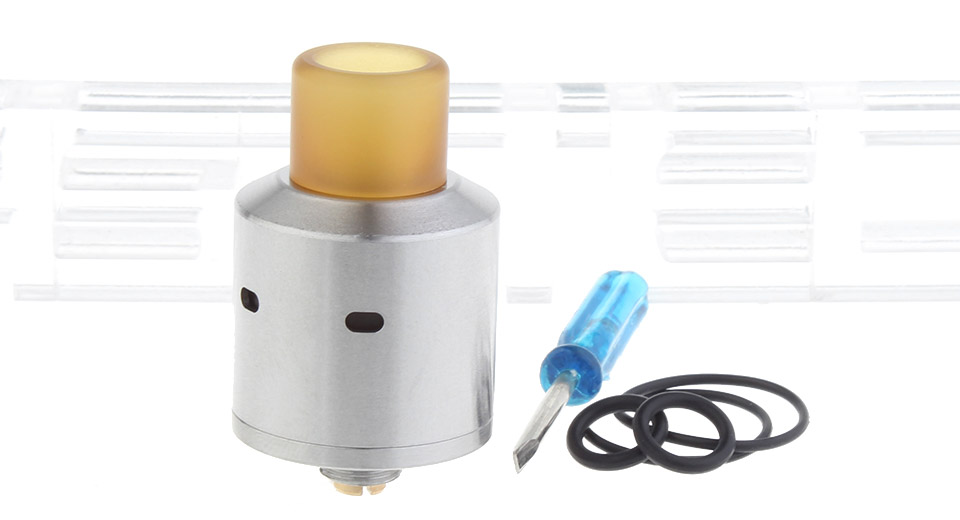 Product Description
The Alcatraz Styled Rebuildable Dripping Atomizer (RDA) is a vape mod with a 316 stainless steel construction. Thus, the body's material provides excellent durability, and it looks great too. Moreover, the RDA has an overall 22 mm diameter.
The RDA has a 510 threading connection and is compatible with 510 drip tips. As 510 connections are common with vape gear, you can add this RDA to many different devices for your own personalized vaping experience.
The Alcatraz Styled RDA has three holes on the sleeve for an effective airflow system. Thus, you'll enjoy smooth vaping experiences as a lot of air can pass easily with every drag. In addition to that, the design of the chamber has an Ultem part plugged into it. So, this reduces a buildup of heat, facilitates airflow, and creates a tank section in the bottom.
This vape mod a dual post build deck. Furthermore, it has a vertical coil placement. As a result, coil construction on this is an easy and quick process.
You will also be happy to know this RDA comes with a bottom feeder pin in the box.
Pros and Cons of the Alcatraz Styled Rebuildable Dripping Atomizer Vape Mod
Here is an overview of the pros and cons of the Alcatraz Styled rebuildable dripping atomizer vape mod:
Pros
This RDA has a 316 stainless steel body that looks and feels great. By holding it in your hand, you can guess that this RDA will last.
The three air holes on the sleeve of this RDA provide some excellent flavors.
The Alcatraz Styled RDA is a relatively affordable RDA available. And considering the price, the build quality is actually fantastic, with perfect machining. The tolerance on the O rings is great, and the 510 drip tip threads well enough. So, you can tell that the manufactures didn't skimp on quality.
The vape mod has 22 mm depth and width really light-weight, weighing only 36 g.
Also, the dual post-build deck helps with building the coils with ease.
The RDA includes a bottom feeder pin, a screwdriver for construction, and 4 O-rings.
Cons
The Alcatraz Styled RDA vape mod does not come with spare screws, which is a shame. However, that's not a big deal as you can purchase spares from your local hardware store.
The Ultem part fits a little too tightly, which can cause it to break over time.
The Alcatraz Styled Rebuildable Dripping Atomizer is a great vape mod for the price. It looks like a high-end device and functions close to one as well. It offers excellent airflow, amazing flavor. Thus, all things considered, you can't go wrong with this RDA.