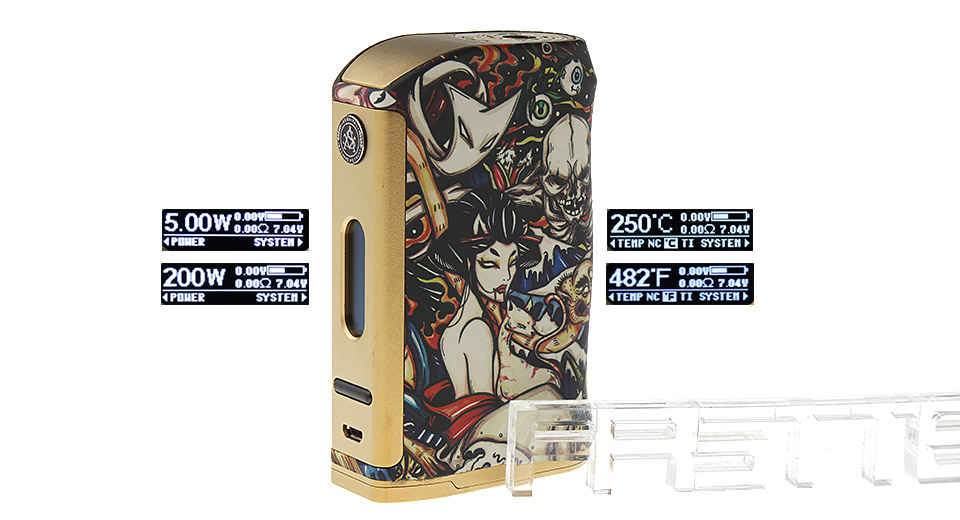 Product Description
The Asvape Michael 200W vape mod is a variable wattage (VW) APV box mod with temperature control. You can vary the temperature between 200F and 600F, or 100C and 315C. Furthermore, you can vary the power output to different settings between 5W and 200W. At maximum power, this beautifully-designed box mod offers a vaping experience with a strong hit with each puff. You can turn the wattage down to increase the overall battery life if you're looking for extensive usage. Also, the VW makes this device accessible to a large consumer base of vape users.
Because of the high power output, this box mod requires dual 18650 batteries to operate. The downside of this is that you may have to spend money on purchasing two batteries. However, the advantage is that it offers great battery life if you don't plan on using it at 200W. This vape mod does not include batteries in the packaging but does have a micro USB cable for charging them.
This box mod uses the newest VO200 chipset for full functionality and features a 510 threading connection, allowing you to use it with various 510 vape atomizers.
The box mod's body is made ofzinc alloy and carbon fiber. Hence, it is durable, preventing it from getting dented or damaged by falling. It also has an airframe skin over the body that's soft to the touch. Moreover, its ergonomic curve provides a comfortable grip when using it with one hand.
Pros and Cons of the Authentic Asvape Michael 200WVape Mod
Here is an overview of the pros and cons of the Authentic Asvape Michael 200W vape mod:
Pros
The box mod provides a powerful vaping experience at 200W.
It has variable wattage to provide different vaping experiences in one package.
It has a beautiful graphic all around the body.
The VO200 chipset offers temperature control over a wide range to suit different vaping preferences. Its menu is also easy to use with a simple design.
It has an ergonomic design that's comfortable to hold and place in your pocket with you.
The body of The vape modis made from high-quality materials that provide great durability.The build quality on the whole looks and feels exceptional.
Cons
The box mod is very heavy, so it can be cumbersome to keep with you at all times. It weighs 280 g.
The vape mod uses micro USB, but that is acceptable at this price.
The mod does not include an 18650 battery.
TheAsvape Michael 200W vape modis an exceptional piece of hardware. Considering its premium build quality, high power output, and gorgeous graphic design, we believe it offers great value for money.