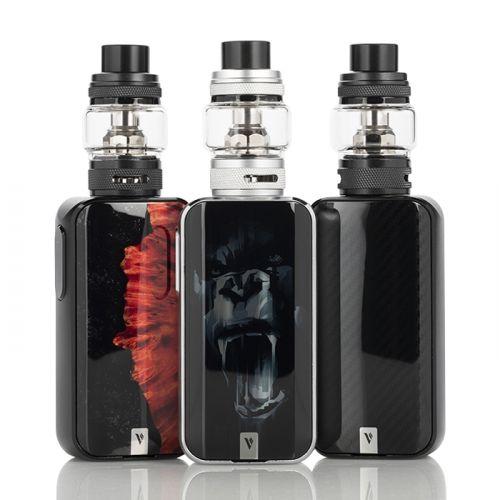 Product Description
TheVaporesso Luxe 220Wvape mod is a variable wattage (VW) APV box mod with a temperature control feature. So, you can vary the temperature, taking it up to a maximum of 600F or 100C. Moreover, you can vary the power output to a minimum of 5W and a maximum of 220W. With this product, users can choose between longer vaping experiences or more powerful ones, based on personal preferences.
The device needs two 18650 batteries, which are sold separately. You can charge the batteries by using the micro USB port on the body and the cable in the box. Even though this box mod uses a micro USB, it has a fast-charging feature with 2.5A charging. Furthermore, the device has a magnetic battery door to ensure that the batteries fit securely, preventing any potential damage.
The vape mod has a large spring-loaded firing pin for comfortable, stable, and extended usage. When you press the button, in 0.001 seconds, it will fire up, providing a quick and powerful experience with each puff. The OMINI board 4.0 chipset in this device facilitates this instant firing speed. Also, the chipset has other important features that you can adjust using the massive, 2-inch, TFT color touch screen.
You can use this box mod with various types of 510 atomizers, as it has a 510 threading connection.
Pros and Cons of the Authentic Vaporesso Luxe 220W Vape Mod
Here is an overview of the pros and cons of the Authentic Vaporesso Luxe 220W vape mod:
Pros
The box mod offers an exceptionally powerful vaping experience at 220W in an affordable package. Moreover, itsvariable wattage feature makes it a vape modthat many different types of users can enjoy.
TheOMINI board 4.0 chipset offers an instant firing speed, temperature control, and a user-friendly interface.
It has a massive 2-inch touch screen display with TFT color. The touch screen eliminates adjustment buttons, making the surface feel uniform when holding it.
The device includes fast charging support even with a micro USB port. Thus, it's a great option for users who are consistently traveling. It also includes the micro USB cable in the box.
It has an ergonomic design with a large firing pin that's comfortable to press for long sessions.
Cons
The mod does not come withdual18650 batteries.
Its overall construction does not feel as sturdy as some other options in the market.
Thebiggest selling point of the Vaporesso Luxe 220W vape modis that it offers an incredibly powerful vaping experience at a low price. However, other users can also enjoy it thanks to its wide range of variable wattage. All of its power is available in a compact package that includes a large display for easy temperature control and other adjustments.