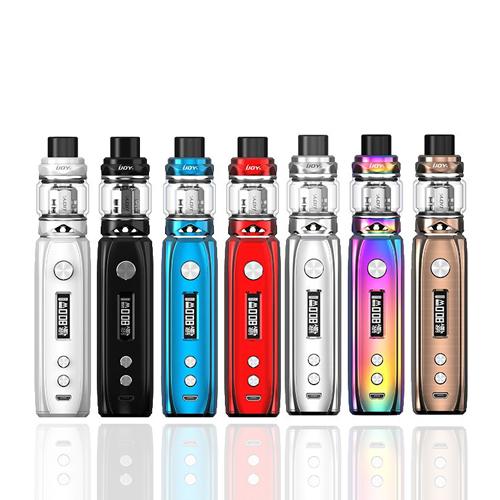 Product Description
The IJOY Katana is a limited-edition e-cigarette vape mod. It's IJOY's first streamlined mod with a stick design and class-leading features. This rainbow mod features all the specs of a box digital mod, provides the experience of a mechanical mod, and offers the convenience of a stick shape. The design is incredibly ergonomic, which makes it easy to hold and use this mod.
It provides the user with six varied modes, including power, p-mode, pod, temp, MTL, and bypass. It features a built-in 3000mAh battery and offers a firing capacity and power of up to 81W. The battery hardly takes two hours to charge and provides you with an enjoyable, uninterrupted vaping experience for two to three days.
Moreover, the device is equipped with a small .91 inches OLED light indicator, which flashes valuable information to enhance your vaping. It has a built-in, advanced IWEPAL chipset with numerous protective features, such as low power protection, short circuit protection, and battery reverse protection.
The Katana mod offers a stable output and a resistance range of 0.05 ohm to 3 ohms. It provides you with temperature control and variable wattage. It has a power range of 1W to 81W. The unit features a micro-USB charging port and a standard 510 threading connection.
The package includes one stylish Katana Mod, a helpful user manual, one sturdy USB cable, and an IJOY warranty card.
Here are the dimensions of this product:
Height: 94.5 mm
Depth: 30 mm
Width: 30 mm
Product Weight: 200 g
Pros and Cons ofIJOY Katana Vape Mod
Here are some pros and cons of the IJOY Katana Vape Mod:
Pros
It provides you with the specs of a digital mod while giving you the feel of a slick mechanical mod.
It offers multiple modes for a customized vaping experience.
The chipset is high-quality and offers various protective features.
It offers good value for the money.
The device is ergonomic, which makes it easy to use.
It comes with a fixed battery, so you won't have to buy one separately.
Cons
The digital display is a bit too small.
Itcomes with a fixed battery, which means you will have to buy a new device if the battery gets damaged.
IJOY's Katana Vape Mod is a stylish stick-design mod, which offers the feel and experience of a mechanical mod while providing you with the features of a box mod. It's the ideal vaping device for individuals who want a slick, easy-to-use mod. It offers multiple vaping modes, an advanced chipset, and a good battery. All in all, this is a well-priced, stylish mod with useful features.