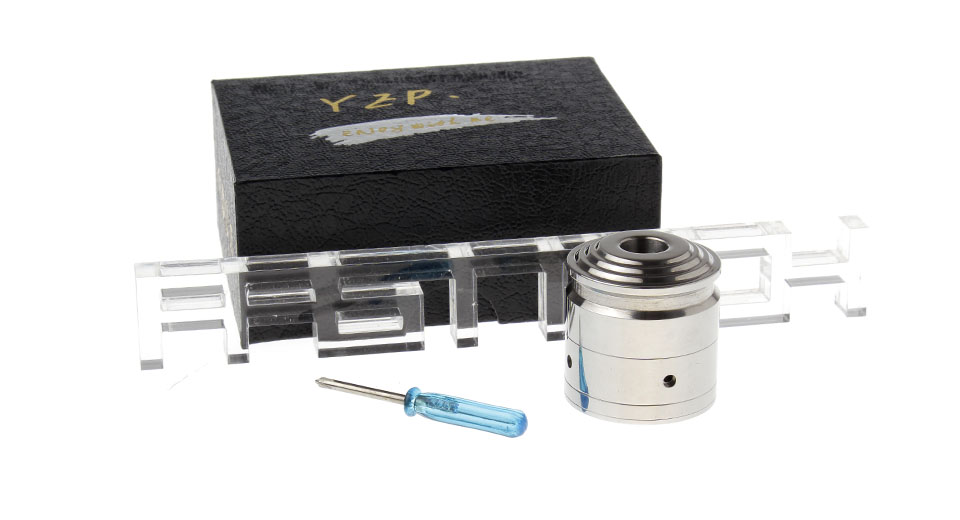 Product Description
The Argus Rebuildable Dripping Vape Atomizeris ideal for a vape mod with a battery form factor of 26650. It is the ideal RDA for huge vapor production. This compact atomizer has a sleek stainless-steel construction.
The top cap has a tapered, stepped down design, which adds to the unique, sleek, and modern look of the atomizer. It's an airflow adjustable dripping atomizer with four air holes on its AFC ring. Even though the holes are tiny, they ensure that you have an intense, flavorful vaping session. The airholes also prevent the vapor from becoming too hot, which makes it easy for novice vapers to vape comfortably.
The atomizer features a standard 510 threading connection with a stainless-steel center pin. It's compatible with a standard 510 drip tip and vape mod. The drip tip does not come with the atomizer box.
The unit features five posts, four of which are negative while the remaining one is positive. The presence of these five posts ensures easy and comfortable coil building. The posts have a stainless-steel construction.
Here are the dimensions of this rebuildable dripping atomizer:
Weight: 90g
Depth: 28.5mm
Diameter: 28.5mm
Height: 25mm
Width: 28.5mm
Pros and Cons of ArgusRebuildable Dripping Vape Atomizer
Here are some pros and cons of the ArgusRebuildable Dripping Vape Atomizer:
Pros
Since it's an RDA, the vapor production is incredibly intense, smooth, and flavorful.
Theadjustable airflow system ensures that you can customize the atomizer for an enjoyable vaping session.
The presence of four airholes ensures that the vapors will never get uncomfortably hot.
It's an exceptionally well-priced RDA.
Cons
The atomizer does not come with a drip tip, which means you will have to buy one separately.
Since it's an RDA, you will have to carry a bottle of e-juice with you for easy on-the-go vaping.
The RDA mechanism might not be easy to handle for all vapers, especially novice ones.
The ArgusRebuildable Dripping Vape Atomizer is a sleek atomizer that is ideal for intense vaping. It is designed to be compatible with vape mods with an impressive battery form factor of 26650, which ensures that you can enjoy prolonged, powerful vaping. The adjustable airflow and rebuildable dripping enable you to create loud, flavorful vapors. Despite all the excellent qualities of this atomizer, if you're not a fan of the RDA mechanism, it might be better if you stick to the tank atomizers.