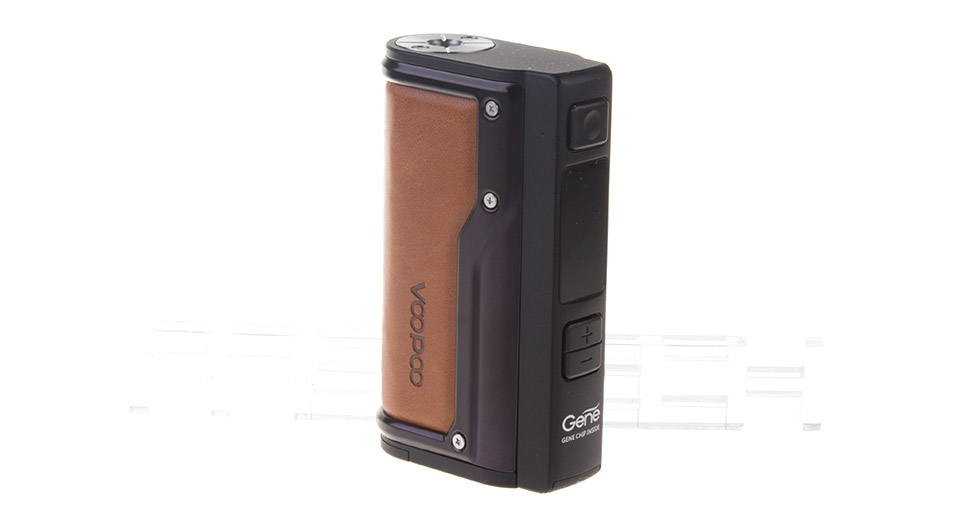 Product Description
Argus GT is a TC VW Vape Mod Box that you can use with the VOOPOO vaping kit. This striking unit is made from leather and zinc alloy. It requires two 18650 batteries to operate and supports a maximum battery length of 65mm. The mod does not come with the batteries, so you will have to buy them separately.
The device can fire up to 160W maximum output. With an adjustable power range from 5W to 160W, Argus GT is able to meet your vaping needs with ease. The unit features a powerful GENE.TT chip, which offers exceptional performance and provides the user with high burst and fast ignition. The chip also offers you a temperature control mode and a SMART mode for customized vaping.
This mod features a large screen, which provides the user with clear, legible information, such as variable wattage, battery life, etc., for an enjoyable and convenient vaping experience. The unit adopts quickly and has a safe type-c charging port for quick charging. It provides you with a resistance range of 0.1ohm to 3ohm and an output voltage range of 6.4V to 8.4V.
The device provides you with a wide array of protective features. These include short-circuit protection, overtime protection, overcharge protection, over-discharge protection, output over-current protection, and over-temperature protection. It also offers a balance charge with a different brand battery and battery reverse protection.
The mod package includes one Argus GT box mod, a sturdy USB cable, and a handy user manual.
Here are the dimensions of this product:
Weight: 106 g
Height:86.1 mm
Depth:26.1 mm
Width:51.3 mm
Pros and Cons of Authentic ARGUS GT Vape Mod
Here are some pros and cons of ARGUS GT Vape Mod:
Pros
It offers a customized, powerful vaping experience.
It's a lightweight and compact mod, which makes it easy to
The chipset is exceptional.
The leather finish gives the mod a classic, sleek look.
It features a large display screen that makes it easy to read the data displayed on it.
The unit features multiple modes, such as VW and TC.
It offers seamless, on-the-go adjustments for power, ohms, and TCR.
It comes with a plastic case to protect it during transit.
Cons
The battery door is a bit hard to open.
It can overshoot while in TC mode.
ARGUS GT Mod Box is a high-quality, luxurious vape mod that you can get at a reasonable price. This mod is ideal for vapers looking for a customized, flavorful, and powerful vaping experience. With different vaping modes and numerous safety features, this device is a promising one to add to your vaping gear.