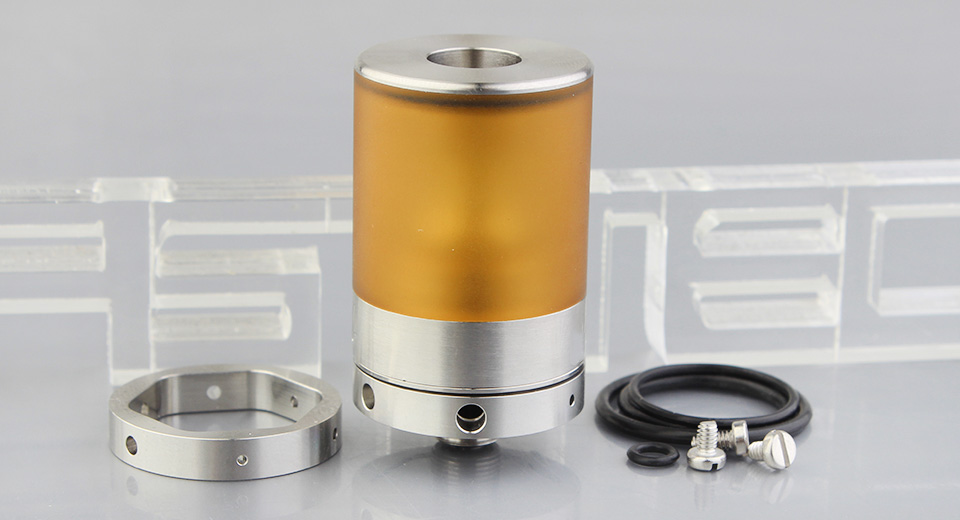 Product Description
The YFTK EVL Reaper V3 vape atomizer package contains one high-quality RTA atomizer, four seal rings, one airflow ring, and two screws. This silver colored atomizer has a 316 stainless steel construction, with minor parts that are made from non-t316 stainless steel material. It features PEEK insulators and comes with a spares pack that includes all O-rings and two spare post screws.
The glass tank is from Ultem. It has a juice capacity to hold 2 ml of e-juice. This atomizer features a standard 510 threading connection, which makes it easy to pair with a wide array of vape mods. It features two different under coil air holes 1.8mm for MTL and 2.7mm for DTL.
Here are the dimensions of this vape atomizer:
Weight: 36 g
Liquid volume: 2 ml
Depth: 22 mm
Width: 22 mm
Height: 37.5 mm
Pros and Cons of YFTK EVL Reaper V3 Vape Atomizer
Here are some pros and cons of the YFTK EVL Reaper V3Vape Atomizer:
Pros
This atomizer is well-built and easy to assemble.
It provides you with an intense, magnified flavor without any lukewarm cold register.
The juice control is quite smooth.
It has a super clean feel to it and leads to a high-quality, clean vaping experience.
The unit allows you to achieve exceptionally fine airflow without any intrusive throat hits that might result in a coughing bout.
It's surprisingly easy to use despite its unique design.
It is reasonably priced and offers exceptional value for
It offers a customized and enjoyable vaping experience.
Cons
You can't make the airflow, filling, and liquid arrival adjustments on the go.
The second airflow ring is pretty much useless without the MTL 1.7 mm positive.
You can hear a slight whistle on the draw.
It doesn't have a top-fill system, which makes it a bit inconvenient to fill the e-juice in the glass tank.
The swaddling is a bit old-fashioned.
It can be a bit difficult to change the positive pole. If you aren't careful, you might damage the positive terminal.
YFTK EVL Reaper V3Vape Atomizer is a well-priced, practical atomizer, which you can pair with a wide range of vape mods. Despite its distinct shape, the atomizer is quite easy to use and contributes to an enjoyable and flavorful vaping experience. The draw can be a bit noisy, but the unit offers a smooth airflow for a comfortable hit. When buying this atomizer, you can rest assured that you will enjoy an intense flavor with a clean feel and great juice control.