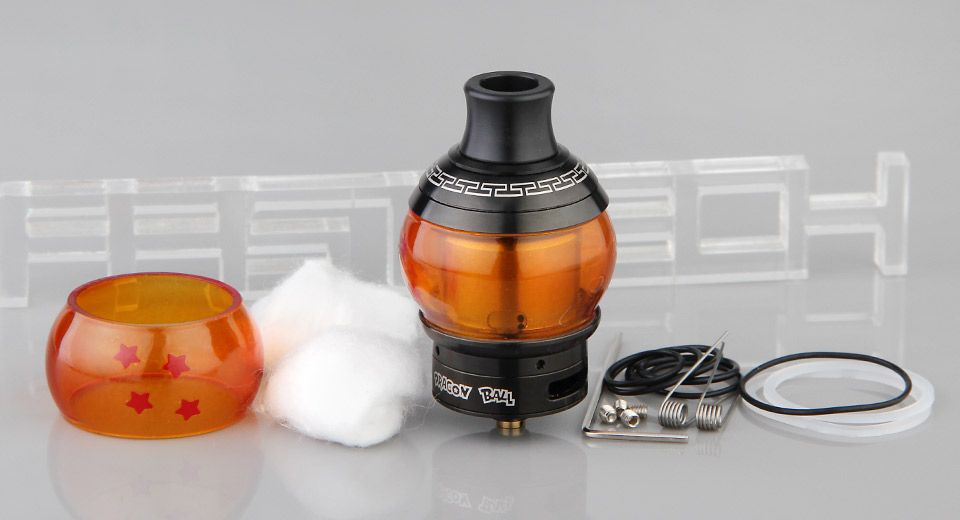 Dragon Ball Styled RDTA Rebuild-able Dripping Tank Atomizer
The RDTA (Rebuildable Dripping Tank Atomizer) is styled with the dragon ball. It is orange in color and made from the stainless steel material. Although slight part of the RDTA is designed with non stainless steel. The tank of the Dragon Ball Styled Rebuild-able Tank Atomizer is made of glass. The main feature of this RDTA is that, the coil can be rebuild in the same style. This RDTA weighs 70g.
Bellus Styled RTA Rebuildable Tank Atomizer
The red color of this Bellus Styled Rebuild-able Atomizer distinguish it from other colors adopted for the design of RTA. This RTA is made from stainless steel material with its tank material made of glass. The Bellus Styled Rebuild-able atomizer is enabled with drip tip. It weighs 56g and it is also characterized by the 510 connection threading and has a rebuild-able coil. It is advised not to replace coil.
Authentic Wotofo Conqueror Mini RTA Rebuildable Tank Atomizer
The Authentic Wotofo Conqueror Mini Rebuild-able Tank Atomizer comes in a black executive color and it is made from stainless steel with minor parts of it carefully constructed from non-stainless steel material. The tank is also built from glass material and it is also enabled with a drip tip. This brand of RTA is light and weighs 46g. it can also contain liquid of 2.5ml and does not permit coil replacement.
Universal 510 Drip Tip – Dark Red + White, Resin + Glass, 28mm
This product is dark red with an addition of white color. The material for the Universal 510 drip tip is resin and glass which is awesome for the insulation of heat. The universal 510 drip tip has a width of 16mm with the depth being 16mm as well and the height measure up to 28mm. It weighs 8.1g which makes the product very light and durable for use by individuals.
Aluminum Flat Mouth Drip Tip for CE4 /CE4S/CE5/CE6
The aluminum flat mouth drip tip is a product that is unique in both its color and material. The product comes in a sky blue color and is made from aluminum. It is carefully packaged plainly. It has a flat mouth which is suitable for CE4/CE4S/CE5/CE6. This special kind of drip tip has a depth of 32.6mm with a width of 10.9mm and a height of 32.6mm similar to its depth.
Calabash Style Aluminum Drip Tip for 510 / ViVi Nova / DCT
This is another special design of drip tip. It is called the calabash style drip tip because of its physical constructive outlook. It is blue with some touches of yellow designs. This design makes the calabash style aluminum drip tip to be uniquely different from other styles of drip tip. It is made of aluminum material. It is very portable and light with its weight being 2.4g and 9.3mm wide.
Complyfe The Bolt Styled 18650 Mechanical Mod
This model of the mechanical mod is specially design in the form of a bolt. It is made of brass with few of its parts made from non-brass material. It features 510 connection threading and the maximum supported battery length is 65mm. it is also characterized by 4 top side vent hole for the dissipation of heat. The Complyfe model of drip tip has magnetic firing button and can be powered by 1*18650 battery.
Authentic ECT ET 30P 30W 2200mAh VW APV Mod
This product is really authentic. It is the yellow colored VW mod constructed from plastic material with few of its part built with non-plastic material. It features the 510 connection threading with a battery capacity of 2200mah. The protection system of the device includes the short-circuit protection, over heating protection and atomizer protection. It come light and handy with light indicator when adjusting the wattage according to the battery level.
Ovancl 40W Styled 40W 2200mAh VW APV Mod
This product has a battery capacity of 2200mah and it is made from zinc alloy material. Few parts of the Ovancl 40W styled 40W VW APV mod is made from non-zinc alloy. The product weighs 75g and its weight makes it uniquely different from other VW mods. It come in a black colored design enabled with 510 connection threading. It has an additional feature which is the micro USB charging port.