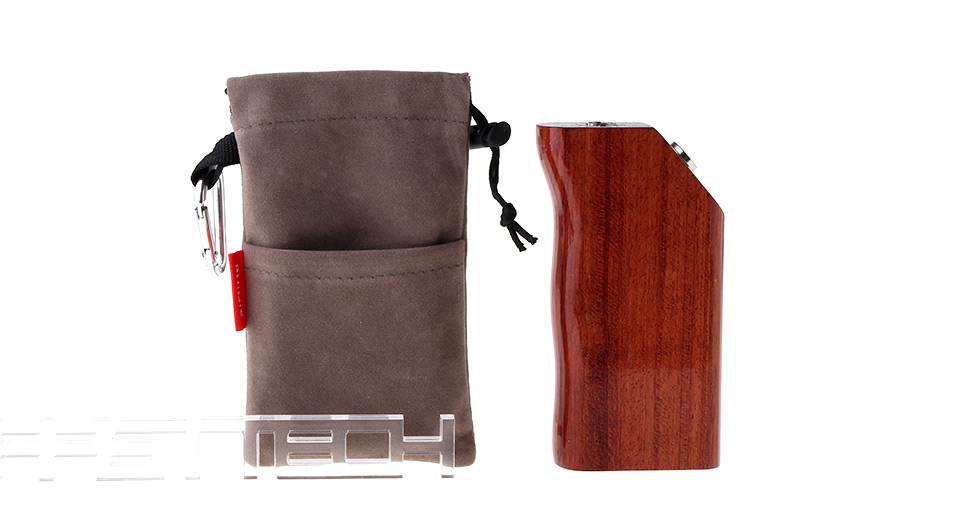 Wooden 2*18650 Mechanical Wood Mod
This stylish wood and stainless steel-based mod has a 510 connection and a side-mounted firing button. Its wood-cabin-esque aesthetic is a bold choice for any vaper, and this mod can house 2*18650 removable batteries- making it ideal for long trips. Its magnetic back cover is also a cool feature; you needn't go messing about with screwdrivers when you run out of power!
Fire of Life Styled 18650 Mechanical Mod
They called it "Fire of Life" for a reason! This unique brass mechanical mod is perfect for making an e-cig fashion statement (if such a thing exists). It comes complete with a 510 threading connection and 18650 battery compartment. The bottom spring-loaded firing button is also a cool feature, along with the reverse locking ring. The obvious selling point of this mod is its robust brass construction.
Authentic SmokTech Replacement AFC Drip Tip for TFV4 / TFV4 Mini – Black, Stainless Steel + Glass, 21.5mm
This drip tip's hallmark is probably its 4 air holes that can be varied to your preferred level of vapour intake. This versatility makes it a winner in my book. The stainless steel and glass construction are also a nice touch; this drip tip seems sturdy and doesn't have that unpleasant aftertaste that some drip tips can have.
Silicone Replacement Mouthpiece for AGO Dry Content Vaporizer
This grey silicone mouthpiece does what it says on the tin really! It's pretty robust in construction, but silicone just isn't my favourite in terms of mouthpiece materials. You have to inevitably consider the effect that different mouthpiece materials will have on the taste of your vape. It's like how coke tastes better out of a glass bottle than a plastic one. It's science. Probably.
Acrylic + PC Hybrid Flat Mouth 510 Drip Tip
This snazzy red and pink acrylic drip tip is the perfect solution for anyone experiencing juice-leakage issues. The well-sealed design helps to stop any sneaky juice from working its way up to the mouthpiece, something we've all had the terrible experience of. It's also sleek and stylish; there aren't many downsides to this drip tip!
Mad Dog Styled GTA Tank Atomizer
This Mad Dog (aggressive name!) atomizer has a sleek stainless steel and glass construction. My favourite thing about this atomizer is its adjustable airflow system, which allows you to produce massive clouds or tiny puffs accordingly. The disadvantage is that it only has 2 air slots, whereas many others have 4.The 510 threading connection and 25mm diameter nonetheless make for a fairly compact and powerful vape.
Velocity Styled RTA Rebuildable Dripping Tank Atomizer
This rebuildable atomizer is perfect for you creative and practical types. The customisable glass tank comes with a stainless steel body and a decent 2.5ml juice capacity. It also comes with an adjustable airflow control system which features 4 differently-sized air holes on the sleeve. This really is one of its best features. It comes complete with a 510 connection and an adjustable copper center screw; this atomizer really is apt for customising your vape experience!
Authentic Wotofo Conqueror RTA Rebuildable Tank Atomizer
This really is the mother of all atomizers! This rebuildable atomizer comes with a massive 4ml tank capacity while maintaining a 22mm diameter… you really get the best of both worlds here. The glass tank and stainless steel construction house the gold-plated contacts and dual postless deck. There's even an adjustable airflow system with 10 AIR HOLES. 10! The customisation opportunities are endless!