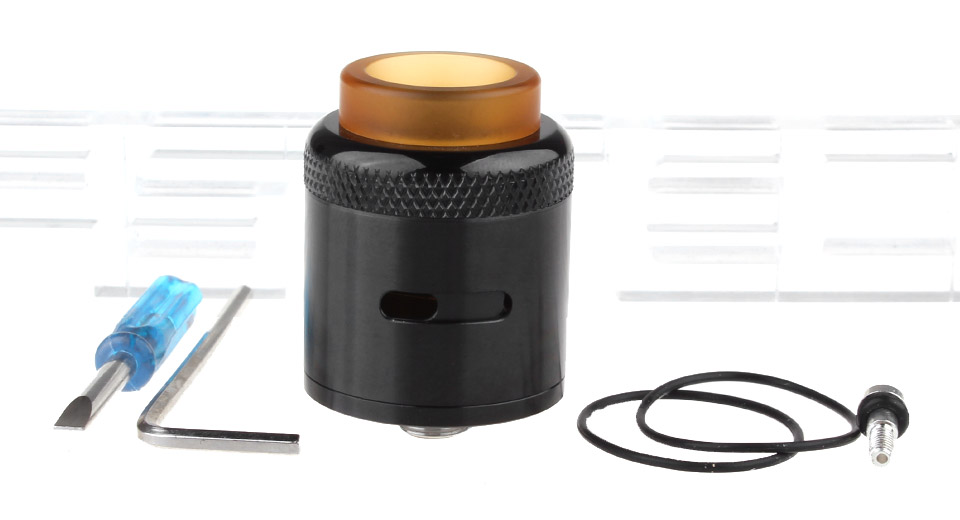 Product Description
The Carnage Styled Rebuildable Dripping Atomizer (RDA) is a vape mod with a 510 threading connection. Thus, it's usable on many different vape mods, allowing you to enhance your vaping experience on different mods without needing to spend much money.
The RDA has a large e-juice capacity, making refills less frequent. Moreover, it has a 25 mm depth and width. Thus, you can easily fit it into your pocket or purse and carry it around anywhere you want.
This vape mod has a dual-post build neck. Therefore, you can build the coils with ease, which is a plus for new vape users. Furthermore, the rebuildable dripping atomizer has a negative post and a positive post with screws on both posts.
You can expect excellent airflow on this RDA with its adjustable side airflow system. Thus, vape users can adjust the airflow that best fits their vaping style. Moreover, it has two different types of air slots, including a triple-hole slot and a single-hole air slot for more personalized modifications.
The Carnage Styled RDA also offers great durability with a 316 stainless steel construction. Its black aesthetic design will also help fit well with other vape gear.
Pros and Cons of the Carnage Styled Rebuildable Dripping Atomizer Vape Mod
Here is an overview of the pros and cons of the Carnage Styled rebuildable dripping atomizer vape mod:
Pros
This RDA has a strong 316 stainless steel body, offering fantastic durability. Even if you accidentally drop the RDA when handling it, you can rest easy knowing it's safe.
The 25 mm width and depth allow this vape modto easily portable. In addition to that, it only weighs 50 g, so you won't feel the extra weight in your pocket at all.
It has a large capacity for e-juice for users who don't like refilling their mod often.
The rebuildable dripping atomizer also produces a lot of flavor for a fantastic vaping experience on the whole.
This vape mod is well built with great attention to detail. All of the threading and the o-rings are well-made without any blemishes or damage.
Moreover, it has a lot of space on the deck if you want to make a large build for yourself. Also, it has screws on the top and bottom to shook the coils with ease. Overall, its easy assembly makes it a great entry point for vape users who want to start modifying their gear.
The RDA has great airflow thanks to its single-hole and triple-hole air slots.
The RDA provides a great flavor for all kinds of e-juices.
It comes with a screwdriver and Allen key for construction, o-rings, and other necessary parts.
Cons
The drip tip doesn't feel very sturdy and high-quality like the rest of the RDA.
The Carnage Styled Rebuildable Dripping Atomizer is a vape mod that provides users with great value-for-money. It's durable, easy to build, has great airflow, and produces a lot of vapor.