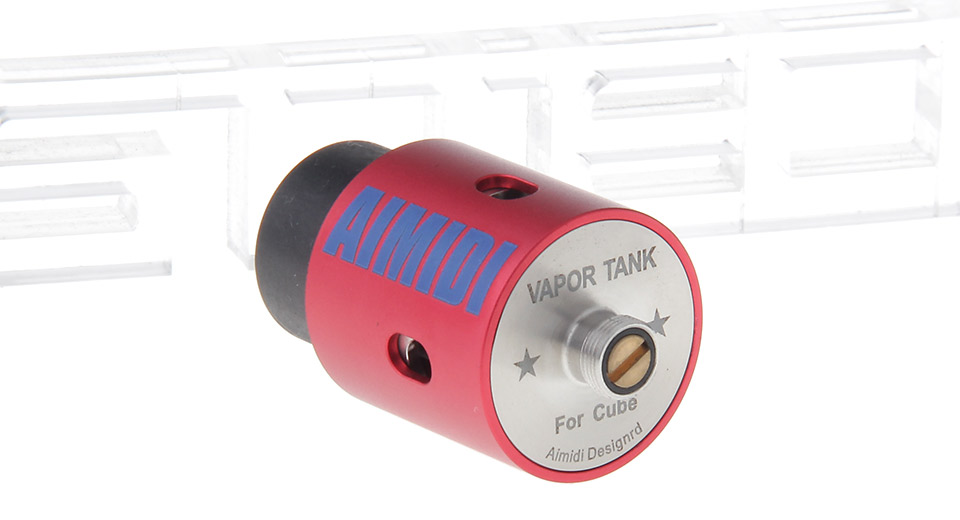 Product Description
The authentic ETALIENS AIMIDI RDAvape atomizer is easily one of the best RDA atomizers in the vape accessories market. It is metallic red, with metallic blue trims and AIMIDI written across its body in the same color. It has a stainless-steel construction, with minor parts made with a non-stainless-steel material.
This rebuildable dripping atomizer features a standard 510 threading connection, which means that you can easily pair it with different types of vape mods. This small unit is quite easy and enjoyable to use as it features four air holes on its sleeves.
It allows you to contain and manage the airflow for a customized vaping experience. It also enables more fresh air to enter the unit and cool the vapor's temperature, making it super comfortable to inhale. Plus, more airflow increases the size of the cloud that you create while vaping.
The RDA atomizer comes in a sturdy turquoise box that also includes two coils, two screws, two extra drip tips for customized and comfortable vaping, two O-rings, one cotton pack, and one handy screwdriver.
Here are the dimensions of the atomizer:
Product Weight: 28 g
Height: 41 mm
Depth: 22 mm
Width: 22 mm
Pros and Cons of the Authentic ETALIENS AIMIDI RDAVape Atomizer
Here are some pros and cons of the authentic ETALIENS AIMIDI RDAvape atomizer:
Pros
Since it's a rebuildable dripping atomizer, you can drip your favorite e-juice onto the exposed coil. It enables you to enjoy huge, flavorful, and intense clouds.
The atomizer is quite-cost friendly.
It comes with two extra drip tips, which allow you to customize your vaping experience and make it as comfortable as possible.
The four spacious air holes on the side of the unit ensure that you can produce huge clouds and more vapor.
Since you're dripping the e-juice onto the coil instead of filling up a tank with e-juice, you can simply change flavors mid-vaping.
Cons
It might be hard for novice vapers to get the hang of the rebuildable dripping technique.
You will have to arrange separate coils, wicks, and e-juice.
The e-juice will burn quickly.
You will have to carry a bottle of e-juice with you.
The ETALIENS AIMIDI RDAvape atomizer has the ability to create large, dense, and flavorful clouds. It's also quite cost-friendly and has a mechanism that allows you to experiment with different e-juice flavors back to back.
However, since it's a rebuildable dripping atomizer, some vapers might have a hard time using it as opposed to the more traditional tank atomizer. It requires you to know the technical aspect of using a coil and wick and building the vapors with dripping e-juice on the coil. But if you're comfortable with the technical aspect, you will surely love this atomizer for its huge, intense, and downright delicious vapor production.