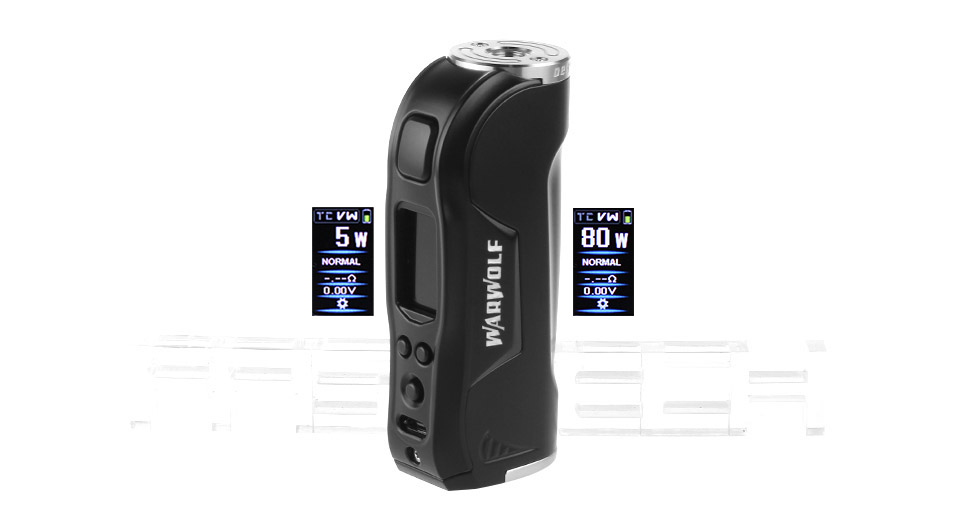 Product Description
The HCigarWarwolf is an80W power output vape mod with a single 18650 battery. The mod allows you to adjust the wattage between 5W and 80W to save battery life or for a better vaping experience. You can charge the battery with a Micro USB cable. Unfortunately, the battery is sold separately.
The Warwolf features an XT80C chipset by Hcigar, which provides an easy-to-use user interface. You can also upgrade the firmware of the chipset easily, which can provide you with new features over time. That said, you have access to a temperature control suite, allowing you to adjust your vape's temperature control. You can view all of these adjustments and upgrades on the 0.91-inch display screen on the mod.
The device's physical design is also comfortable. The ergonomic shape has a large firing button that you can press easily with your thumb or finger. It has 4-button control face and menu button for easy access to controls and options. In addition to that, it has a comfortable shape, so your fingers won't cramp up from holding all day.
Other than just comfort, the vape mod features an anti-wear design that will keep the device in excellent condition. That, coupled with an elegant aesthetic, offers excellent value-for-money.
Pros and Cons of HCigarWarwolf Vape Mod
Here is an overview of the pros and cons of the HCigar Warwolf vape mod:
Pros
The kit has an ergonomic design that is comfortable to hold and place in your pocket.It has four buttons and a large firing button, allowing for better comfort on the whole.
The vape mod has a HcigarXT80C chipset that offers temperature control and is simple and easy to use. It's also upgradable to include new features.
It has a sturdy design using high-quality materials. The mod feels great in your hands when using it, and the buttons don't rattle when you press them.
The mod features a bright screen to display all the necessary vaping information you may need to know.
The Micro USB battery charging port offers simple and accessible charging.
Cons
The vape mod does not include the designated battery in the package. So, you will have to spend more money to use this mod.
The mod also does not have an adjustment lock, which is a shame considering the design is fantastic otherwise.
The 80W HCigarWarwolf vape mod provides excellent value for money. Despite its relatively low price, it has a comfortable design that looks and feels great. Its proprietary chipset offers a smooth UI that's easy to navigate to access its features. At this price point, it's not surprising that the mod doesn't include a battery. So, if you're purchasing this mod, make sure to secure a battery for yourself as well.