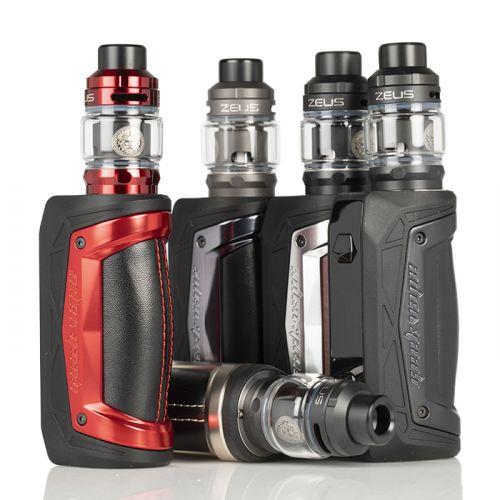 Product Description
GeekVape Aegis Max Box is a fast-firing vape mod with a zinc-aluminium alloy construction. It has an ergonomic grip design, which provides the user with a robust feel.
This is a military-grade, durable, shockproof mod with an IP67 rate. It means that it can easily withstand water levels up to a meter deep for half an hour.
It needs a single battery with a 18650 or 21700 form factor. The box does not include a battery, so you will have to buy one separately. It provides you with a variable wattage range of 5W to 100W for a customized vaping experience.
This unit features various modes, such as power (VW), TC, VPC, TCR, and bypass modes. It also offers a resistance range of 0.05ohm to 3ohm. This device also provides you with a temperature control range of 200 degrees Fahrenheit to 600 degrees Fahrenheit (100 degrees Fahrenheit to 315 degrees Fahrenheit).
It features an AS 100 chipset with a maximum power output of 100W for an excellent vaping session. It's a versatile, user-friendly mod with a removable battery compartment. It offers interchangeable battery size options.
This device provides you with excellent performance and a comprehensively consistent user experience. It offers super-fast firing of less than 0.020s. It also comes with an over-heat protection function. Moreover, this mod offers highly reliable variable resistance and variable voltage adjustments as well. It has a standard 510 threading connection, which is compatible with most batteries. It also has a micro-USB charging port.
This mod package includes one Aegis Max Mod, a handy battery door assist tool, one sturdy USB cable, a18650 battery adapter, and a comprehensive user manual.
Pros and Cons of GeekVape Aegis Max Vape Mod Box
Here are some pros and cons ofAegis Max Vape Mod:
Pros
With an IP67 rate, this unit is ideal for extreme outdoor usage.
The AS 100 chipset offers dynamic features and an ideal vaping experience.
Since it is shockproof, you won't have to worry about breaking it by accident.
It's resistant to dust as well, which means that you can easily clean it.
The unit is compatible with two battery form factors, which means that you can customize the length of your vaping sessions.
With variable wattage and temperature control, you can expect to have an enjoyable vaping experience.
Cons
This unit does not come with pre-installed batteries, which means you will have to buy the batteries separately.
It does not feature a display screen.
It does not have multiple protective internal features.