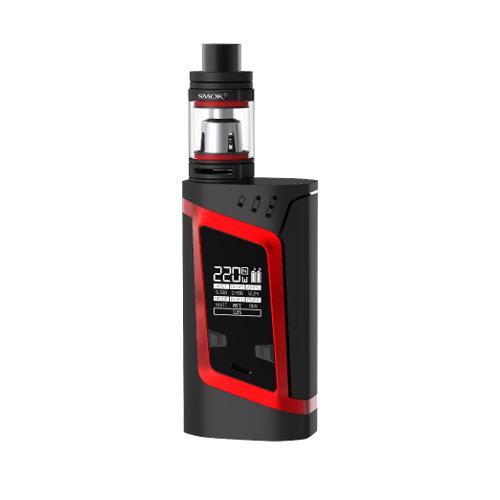 Product Description
The Alien 220w has become a bit of a vaping staple recently- every man and his dog seem to own one. Does it, however, live up to its stellar reputation? Let's take a look at this popular mod and find out.
First of all, let's detail some of the specs of this mod. It comes complete with a variable wattage of 6-220W (though we don't recommend vaping at 6W) as well as a temperature control range of 200-600'F. The Alien's classy LED display is combined with a sophisticated interface that clearly informs you of things such as voltage, wattage, settings, battery life and much more. The Alien 220w houses 2 18650 batteries and comes complete with a micro-USB charging port for regular charging. The zinc alloy construction and black/red color scheme simultaneously make for pleasing aesthetics and robustness.
Now for what you really want to know about.
The Alien 220w has earned its reputation for a good reason; it's a really, really good mod. It holds charge extremely well, which is more than can be said for some of its infuriating competitors that die within hours (maybe they've been taking tips from Apple?) The Alien 220w is very intuitive and easy to set up; the clear LED display helps you to diagnose any problems you may be having.
In terms of vaping itself, it's one of the best mods we've ever used. Long-lasting flavor and impressive clouds make this beast of a mod stand out from the rest. The large firing switch is also a huge advantage, as it allows for palm-activated vaping. If you're a bit of a lazy vaper, you're going to love this firing switch. A leisurely squeeze with your palm is all that is required to inhale that precious, precious vapor. Little fiddly buttons are for wimps anyway.
The Alien 220w also comes with a removable drip tip, so you can customise away as you please. The body comes with ventilation holes for temperature control and cooling. This is a nice touch, and obviously aids in avoiding pesky overheating problems. Just be sure to keep those ventilation holes clean and clear at all times.
It appears that Smok is a user-oriented company, which has presumably aided their growing reputation. The box for the Alien 220w mod comes complete with numerous spare parts, which is very convenient if you're prone to breaking things or simply enjoy messing around with customization. Me personally? I'm just prone to breaking things.
So what's bad about the Alien 220w? What's annoying about it? Not much, actually. After a thorough critique of this mod, I've only been able to find a couple of issues. The filling hole is quite small compared to some other models, and this can inevitably cause overflowing issues and runaway juice. The battery compartment is also a little flimsy and insecure when it isn't housing any batteries. However, given that e-cigs generally warrant batteries, I can't see this being a big issue. The only other potential downfall of this mod is that it's fairly large and may not suit a more compact vaper. Nevertheless, things such as size are subjective.
All in all, the Smok Alien 220w Mod is a really decent piece of kit. Its intuitive features are suitable for vapers both experienced and inexperienced. It's a reliable mod that holds a really good charge, making it convenient for people with busy lifestyles. It produces excellent flavor and vape (given proper maintenance) and has a really intuitive LED display that gives you comprehensive control over your vaping experience.
It also comes in some snazzy colors.