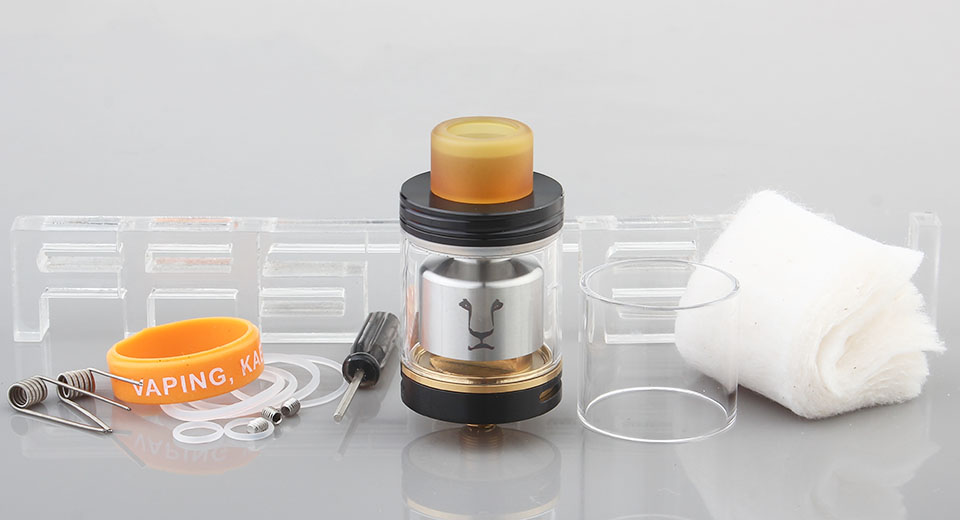 Product Description
The Authentic KAEES Aladdin Rebuildable Tank Atomizer (RTA) is a vape mod that has a stainless steel (304) construction that feels and looks high quality. Therefore, you can be sure that RTA is durable and won't get damaged with ease. As a result, you can carry it around with you without worry. Moreover, the glass tanks and the rainbow-colored device makes the design look fantastic. The slim design with a 22 mm diameter makes it easy to place it into your purse or pocket for great portability.
What makes this rebuildable tank atomizer's design even more remarkable is that it has two tanks. One of them has a capacity of 2ml, and the other glass tube has 4ml. Therefore, you can store enough vape juice in this RTA. So, you won't have to worry about refilling this often or running out of juice when you're on the go.
This RTA vape mod has various airflow options, allowing it to produce fantastic flavor. There are 4 air holes sizes with diameters of 1.4mm, 1.3mm, 1.2mm, and 1.0mm. That, coupled with the 304 stainless steel drip tip, ensures that you have a comfortable and exceptional mouth to lung (MTL) vaping experience. Moreover, it has a machined system for airflow, allowing you to change it to a single- or multi-airflow inlet for a personalized experience.
Pros and Cons of the KAEES Aladdin MTL Rebuildable Tank Atomizer Vape Mod
Here is an overview of the pros and cons of the Authentic Aladdin MTL RTA by KAEES vape mod:
Pros
The rebuildable tank atomizer has a durable and high-quality stainless steel construction. Moreover, the 22 mm-width design and lightweight tank make it very portable.
The RTA has 2 paralleled tracks on the deck with a post on each. Thus, the setup is easy, which is a plus for new vape users.
This vape mod has two tanks with capacities of 2ml and 4ml. Thus, it's excellent for long vaping experiences.
It has four different airflow options, allowing users to enjoy a completely personalized experience. Moreover, the airflow system is great for MTL users with a smooth flow and fantastic flavors.
The mod comes with a pack of spare parts, a screwdriver for construction, and a spare glass tube in case the first one gets damaged.
Cons
The airflow domes may feel a little fiddly and flimsy. Thus, it may not be as sturdy as it should. However, that is acceptable at the low price point.
The KAEES Aladdin MTL RTA is an affordable vape mod that's fantastic for MTL users, with various airflow options. Users can also match different types of heating wires on the build deck, which is good for making wicking easy.