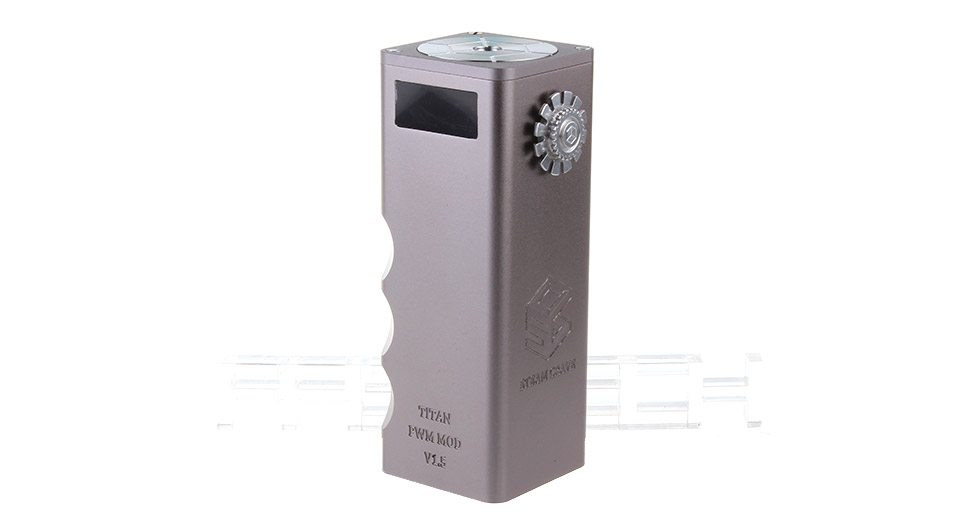 Product Description
The Steam Crave Titan 300 vape mod comes with a limited edition Ragnar RDTA Kit as released for Steam Crave's 5th anniversary. The Steam Crave Titan 300 Mod uses the YiHi SX480 chipset and includes dual 18650 / 21700 vape batteries, allowing for long-term use. It has a maximum power output of 300W. The colorful 0.96-inch TFT screen also displays the battery status so that you don't have to worry about losing charge in your device.
The Hadron vape mod also features TC and VW taste modes so that you know exactly what your vape tastes like before you settle on it.
The self-winding tank atomizer, i.e., the Ragnar RDTA Kit, has an 18ml capacity and a 35mm diameter.I It's made of durable glass and stainless steel, making it great for travelling. The tank's size and the fact that it has no overhang proves that it is excellent for various coil buds and chunky RDA.
The limited-edition RDTA kit also has adjustable side and bottom airflow. This way, you can switch your vaping power between a medium or high setting, offering better versatility in the process. Also, its postless deck for a sing or dual coil setup and honeycomb air holes at the bottom make for a smooth vaping experience.
Pros and Cons of Steam Crave Titan 300 Vape Mod
Here is an overview of the pros and cons of the Steam Crave Titan vape mod:
Pros
The mod has a large tank, allowing for more capacity.
The vape mod also has excellent battery life. So, you don't have to worry about your vape running out of charge during the day.
It's made of durable glass and stainless steel, so it won't get damaged when transporting it in your backpack.
The YiHi chipset offers a simple, accessible, and easy-to-use user interface.
The YiHi chipset offers sufficient power for an excellent ramp-up time and a great hit with every puff.
It's a complete, advanced vaping gear kit that offers good customizability.
Cons
One of the main advantages of the Titan 300 Vape Mod can also be one of its largest issues. It has a large mod size, and its weight is greater than other mods available. This makes it a little difficult to carry it while
The kit doesn't come with a chimney reducer. This is unfortunate because the Plus v2 advanced kit includes a chimney reducer.
On the whole, the Steam Crave Titan 300 vape mod and the limited edition Ragnar RDTA Kit offer a complete kit that's ready to use. Users have access to a fantastic vaping experience with great battery life, durable materials, and a clean UI. However, though the size may offer more capacity, it can be clunky and uncomfortable to use. That said, the product's features and its price make it a great mod for users to consider.