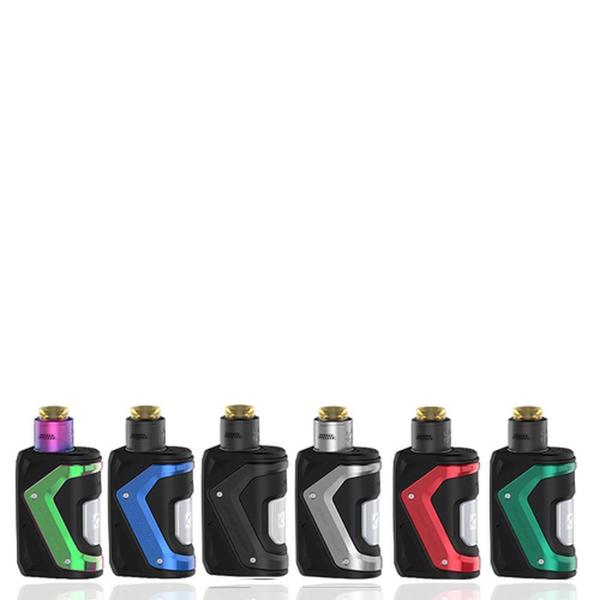 Product Description:
Aegis Squonk Vape Mod Kit contains one Aegis Squonk Mod, one squonk bottle, one Tengu RDA atomizer, a 510drip tip adapter, a helpful user manual, and a battery door assist tool. It also includes one GV triangular tool, one spare parts park, a 810 drip tip, a sturdy USB cable, and one L-shaped hexagonal wrench.
The Aegis squonk vape mod features a one-of-a-kind interchangeable modular RDA Squonker system. This device has an innovative 2-in-1design that allows you to transform it into a non-squonk RDA mod or a squonk mod. It requires a single 18650 battery to function.
It features the latest AS-100 chip, which fires up to 100W with ultimate stability and precision.The chipset offers incredible firing time and provides exceptional TC for stainless steel coils. It also provides precise control over numerous coils, such as nickel 200, stainless steel, and titanium.
This mod has an output power range of 5W to 100W and allows the longest vaping time of 10s. It has a 10ml e-juice capacity. This unit offers a resistance range of 0.05ohm to 3ohm and an output voltage of 0.1V to 8V. It features a black and white display screen of 0.9 inches. Moreover, the device is shockproof, waterproof, and dustproof.
It offers high-end safety features, such as over-heat protection, 10s cut-off protection, and short-circuit protection. It also provides you with over-current protection and discharging and overcharging protection. When using the TC mode, anti-dry safety is also guaranteed.
The Tengu RDA atomizer has a top filling system for easy e-juice refilling. It features a Delrin drip tip and a PMMA drip tip. The honeycomb inlets on the side ensure even and smooth airflow. It's quite easy to assemble. The atomizer is compatible with BF squonk mode and has a concealed airflow adjustment system. It features a standard 510 threading connection.
Pros and Cons of Authentic GeekVape Aegis Squonk Vape Mod Kit
Here are some pros and cons of the GeekVape Aegis Squonk Vape Mod Kit:
Pros
It's a sturdy mod with numerous internal and external protective features.
It offers multiple modes, including VW and TC.
The atomizer ensures smooth airflow for an enjoyable experience.
It offers exceptional value for the price.
Cons
You will need a nude grip add-onto switch the mod to a non-squonk version. You will have to buy it separately as it does not come with the kit.
GeekVape Aegis Squonk Vape Mod Kit is an incredibly ergonomic, compact, and durable vaping kit. It's waterproof and shockproof, which helps extend its longevity. It has a powerful chipset that provides you with a maximum power output of 100 watts. It results in an authentic and enjoyable vaping experience.
This is the only mod that comes with a 2-in-1 system. You can either opt for the squonk mod or use the non-squonk version. All in all, it's a practical and affordable buy for those who want an enjoyable vaping session.