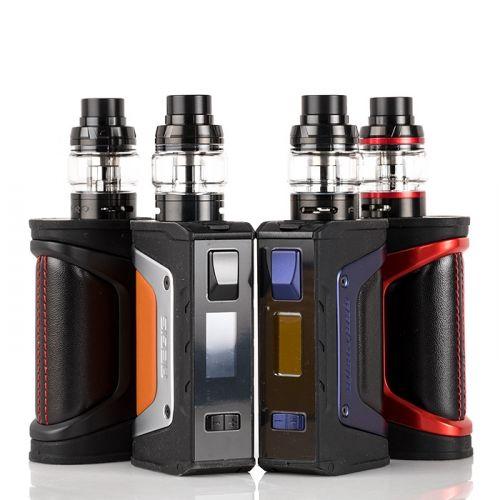 Product Description:
GeekVape's Aegis Legend Box Vape Mod Kit contains one Aegis Legend Mod, one 5ml Zeus sub-ohm tank with a Mesh Z2 Coil (0.2ohm), one 18650 battery adapter, and one Mesh Z1 Coil(0.4ohm). It also includes a battery door assist tool, one 3.5ml spare glass tube, a sturdy USB cable, and a helpful user manual.
The Aegis Legend mod box uses a 18650/21700 battery and offers a maximum power output of 100W. It features an AS-100 chip and provides you with long 10s vaping and multiple protective features. It's a military-grade mod with an IP67 rate. This zinc-aluminium alloy mod is water-resistant, dustproof, and shockproof.
This unit offers an output range of 5W to 100W and a resistance range of 0.05ohm to 3ohm. It features multiple modes, such as VW, TC, VPC, TCR, and bypass mode. It has a temperature control range of 200 to 600 degrees Fahrenheit.
It's a user-friendly mod with an ergonomic grip side and a removable battery compartment. This unit offers super fast firing of less than 0.020s. It has an overheat protection feature and variable resistance and voltage adjustment. It features a standard 510 threading connection and a micro-USB charging port.
The Zeus tank offers 5ml juice capacity and features direct top airflow and top-to-bottom airflow. It helps you achieve maximum vapor and flavor boost without any leakage. It has a top filling and slide coil design, making it easy to refill the e-juice and replace the coils. The tank has a 810 drip tip and a 510 threading connection. The Z1 0.4ohm and Z2 0.2ohm mesh coils use high-grade KA1 and offer a power range of 60W to 70W and 70W to 80W.
Pros and Cons of GeekVape Aegis Legend Vape Mod Kit
Here are some pros and cons of the Aegis Legend Vape Mod Kit:
Pros
It's a shockproof mod, so you don't need to worry about breaking it.
This unit is water-resistant and dust proof as well, which extends its longevity.
It's exceptionally well-priced.
The tank comes with a 5ml tank and a secondary 3ml tank. It allows you to customize the length of your vaping session.
The mod offers multiple modes to choose from for a customized vaping experience.
The tank is designed to offer maximum flavor and vapor production.
Cons
The mod does not have a display screen to highlight vital information, such as voltage or battery life.
The kit does not include a battery, which means you will have to buy it separately.
GeekVape Aegis Legend Vape Mod Kit is the ideal vaping kit for anyone looking for a well-priced, durable, and powerful unit. The design of the tank offers maximum flavor and vapor production for an enhanced experience. The high-quality chipset offers you a maximum power of 100W for a dynamic vaping session.