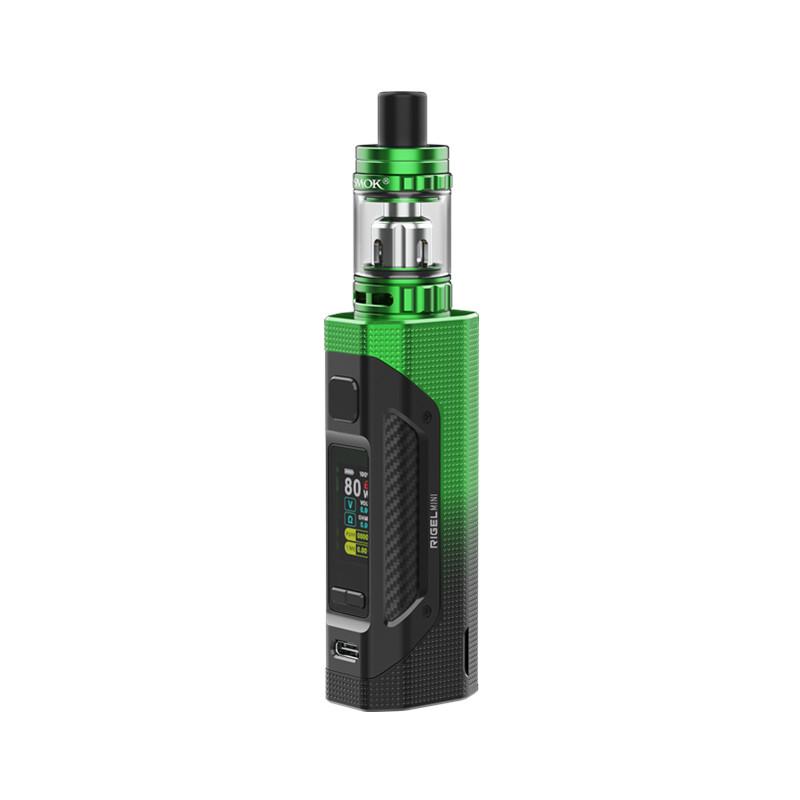 Product Description
Smok Rigel 230W is an exceptional vape mod with a refreshing design. It features a classic carbon fiber and flexible rubber layer, which enables it to have a sturdy and smooth surface. The design also features various honeycomb holes that are visually appealing and make it easy to hold the device.
The Rigel box mod can easily withstand high power due to its incredible chipset, which offers exceptional ease-of-use and performance. You can obtain massive vapor and powerful flavor in your first hit because of the amazing burst speed of 0.001s. The device offers an output wattage of 1-230W and a resistance range of 0.1-2.5ohm.
SMOK offers 6 themes so that you can tailor the user interface however you want. You can change the style by using the Up button and the Fire Keysimultaneously. The device comes with a frontal 0.96-inch TFT color display, which highlights basic data while vaping. The large layout provides you with easy-to-readcontent.
With a space for two external 18650 batteries, you can power this RIGEL vape mod up to a maximum production of 230 watts, which will help you enjoy a prolonged vaping experience. This mod uses a USB Type-C adapter, which offers quicker transfer speed and delivers reliable power. This ensures safer, faster charging and more steady performance.
SMOK Rigel box mod offers multiple layers of protection. It provides you with a puff-monitoring system, an 8-second cut-off, a self-adaptive power output functionality, and intelligent atomizer recognition. It also offers over-heating protection, short circuit safety, and low-battery notice.
Pros and Cons of the Authentic Smoktech SMOK Rigel 230W VW Vape Mod
Here are the pros and cons of the Authentic Smoktech SMOK Rigel vape mod:
Pros
Rigel vape box mod has a durable, ergonomically designed body, which makes it easy to hold and use. The small size of the box also makes it easy to carry while traveling.
It comes with an incredibly powerful chipset, which helps you have a comfortable and high-quality vaping experience.
Rigel provides you with 6 different color themes.
The Type-C USB ensures faster, more reliable charging and leads to more effective performance.
It offers multiple protection features, such as heating and short-circuit protection, which will help your device last a long time.
It comes with a helpful and comprehensive user manual.
Cons
The Smoktech Rigel vape mod doesn't come with batteries. This means that you will have to buy them separately.
It's a little pricier than some other vape mods out there that offer the same functions.
All in all, the Authentic Smoktech SMOK Rigel 230W VW Vape Mod offers plenty of amazing features that can help you have an amazing vaping experience. The chipset provides you with powerful, flavorful puffs. Meanwhile, the mod offers you a wide array of protective features that promote its durability.