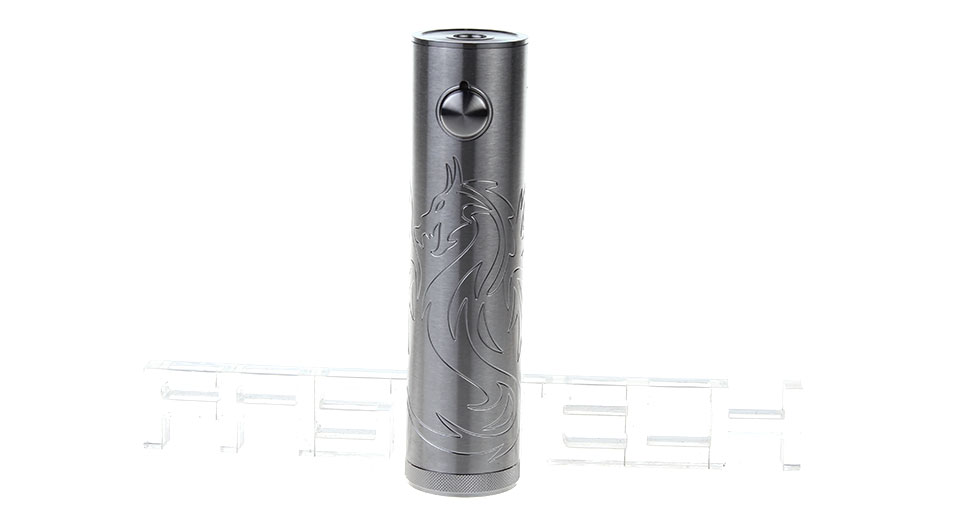 Product Description
The Vapefly Siegfried mechanical vape mod is a tube mod that works perfectly with the Siegfried Mesh RTA. However, it can also work with many other 510 vape atomizers as it has a 510 threading connection. The device has a complete stainless steel construction to ensure maximum durability. It's only 25.2 mm thick. So,it's easy to carry around and keep in your pocket.
The tube mod requires a single 21700, 20700, or 18650 battery to power it up. You can recharge or replace these batteries. However, you will have to purchase the battery separately. That said, if this is not your first vape mod, you are likely to have one of these batteries already. Different battery types mean you can choose a battery with more capacity for extended use.
Near the fire button, there's an LED that indicates different battery percentages. This way, users can keep track of their usage.Thus, the green light indicates 3.8V or more,the blue light indicates between 3.4V and 3.8V, and the red indicates 3.4V or below.
The tube mod features an ergonomic design with a large fire button for easy access. It's also sleek, making it comfortable to hold. Furthermore, the beautiful dragon design also provides a bit of grip to prevent the mod from slipping out of your hand.
The core of this mod features the modern 3S chipset by Vapefly. Thus, this chipset has numerous protection systems to help keep it safe from damage over time.
Pros and Cons of Vapefly Siegfried Tube Vape Mod
Here is an overview of the pros and cons of the Vapefly Siegfried Tube vape mod:
Pros
Thetube mod has excellent build quality with fantastic durability. Its full stainless steel construction won't let the device get damaged by dropping it. The tube mod also feels sturdy in the hands because of the steel body. Also, this mod includes nano-coating on the chipset to prevent it from coming in contact with water or moisture.
The ergonomic design on this vape modmakes it easy to hold and use. Despite its steel body, it's relatively lightweight (90g). So, it's easy to carry around.
The mod comes with a18650 battery adapter in the box, allowing you to charge your battery with ease.
The 3S chipset has 6 protection systems, including high-temperature protection, reversed battery protection, short-circuit protection, over-current protection, 10 second cut-off protection systems, and nano-coating.
Cons
The power output on this vape moddepends on the battery's current-voltage, which can be restrictive for some users.
The mod does not include the battery to run the device, but that's acceptable at this price.
Some users may prefer a USB Type-C battery charging port instead of the 18650 battery adapter.
The vapefly Siegfried tube vape modis an affordable device that provides a great vaping experience within a high-quality build.