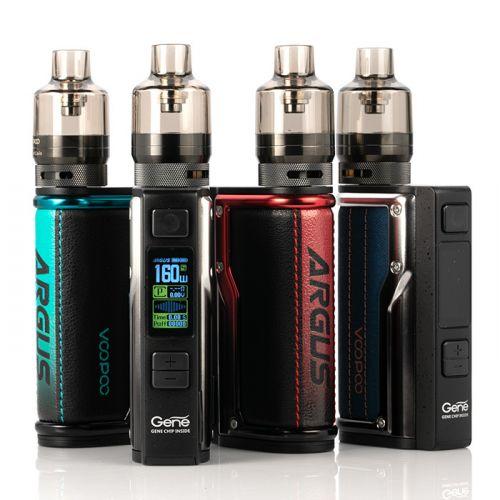 Product Description
The Voopoo Argus GTvape mod provides 160W power output for users who want an extra kick from their vape. The TC VW box mod requires dual 18650 batteries, which you will have to purchase separately. However, what's great about using these batteries is that this mod includes a USB Type-C charging port. Therefore, this mod has fast charging support for the batteries.
You also have the option to adjust the output wattage levels to 5 different settings, ranging between 5W and 160W. This way, you can customize your vaping experience based on your requirements, feel, and mood.
The box mod uses the GENE.TT chip to power all of its controls. The chip supports smart features, such as TC mode and SMART. Furthermore, it offers fast processing speed, allowing for high burst and fast ignition. You can also see the settings for these features on the screen on the vape mod.
The body of the Voopoo Argus GT mod is part PU leather and part zinc alloy. So, it feels great in the hands, and its' relatively lighter than other box mods at this price point.
Pros and Cons of Voopoo Argus GT Vape Mod
Here is an overview of the pros and cons of the Voopoo Argus GT vape mod:
Pros
The box mod has a high power output of 160W with variable wattage control. Therefore, it's suitable for many types of users.
What's great about it is that it has a USB Type-C charging port. Type-C offers faster charging than Micro USB. In addition to that, the box mod comes with a USB Type-C cable as well.
The GENE.TT chip provides a fast and fluid user experience. It also supports features like TC mode and SMART.
The vape mod has 8 safety protections. These include overtime protection, overcharge protection, short-circuit protection, over-discharge protection, output over-current protection, battery reverse protection, over-temperature protection, balance charge with batteries of different brands
Thekitis relatively lightweight,even with dual 18650 batteries. The PU leather also feels comfortable to hold and has a large ignition button for extra comfort.
Cons
The vape mod doesn't include the dual 18650 batteries it needs to run in the packaging. Therefore, you will have to purchase these batteries to use the box mod. That said, these batteries are common for vape mods, so you may already have them if you're an avid user.
PU leather starts to show wear quite soon if you don't take good care of it.
The screen on the device is not very useful.
The Voopoo Argus GT vape mod offers a lot for a competitive price. It stands out because of its fast charging support, SMART and TC mode support, and variable wattage control. It's unfortunate that the mod doesn't come with batteries, but that's common at this price point.