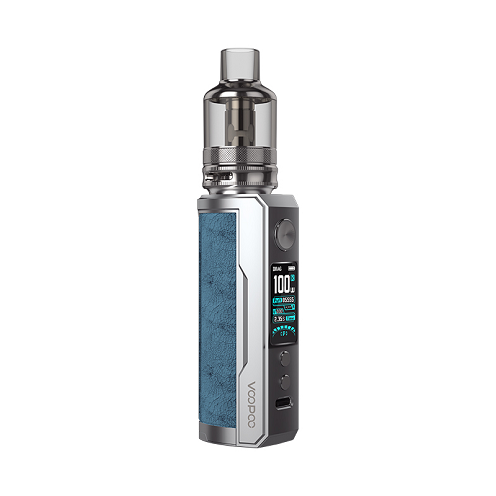 Product Description:
VOOPOO DRAG X Plus is an incredibly affordable, durable, and powerful box mod. This gun metal color unit has a zinc alloy construction, with minor parts made of non-zinc alloy. It benefits from an anti-corrosion, anti-scratch, anti-oxidation, and fingerprint-proof surface.
It features a 32-bit super US gene fun chip. With an impressive maximum power output of 157W, this mod offers a consistent vaping experience. This device is ideal for quick puffs as it provides you with an incredibly fast firing speed of 0.025 seconds.
DRAG X Plus has a clear OLED display screen, which highlights how the device is running. It has a big fire button, which is easy to press. It needs two 18650 batteries to function. The batteries do not come with the mod, so you will have to buy them separately. It features a standard 510 threading connection and a micro-USB port.
This device offers you an impressive variable wattage range of 5 watts to 157 watts. It also provides you with a temperature control range of 200 degrees Fahrenheit to 600 degrees Fahrenheit (100 degrees Celsius to 315 degrees Celsius).
Moreover, it has a working voltage range of 6.4V to 8.5V and a current range of 1A-40A. This mod features an output voltage range of 0V to 7.5V. It offers you a resistance range of 0.05 to 3.0 in variable wattage mode. It also provides a resistance range of 0.05 to 1.5 in temperature control mode.
This unit provides you with multiple protection features. These include reverse battery protection, over-temperature protection, overcharge protection, and short-circuit protection. It also offers switch time-out protection, over-discharge protection, and output over-current protection.
The package contains one DRAG X Plus 100W Mod and one sturdy USB cable.
Pros and Cons of VOOPOO DRAG X Plus Vape Mod
Here are some pros and cons of DRAG X Plus Vape Mod:
Pros
Even though it's bulky, it is exceptionally sturdy and will last a long time.
This unit uses two batteries with a18650 form factor to provide you with long-lasting vaping sessions.
It offers good value for
The device provides you with excellent internal and external protection features, which promote its durability.
It has a high-quality chip.
The unit fires quickly and offers you quick .025-second puffs.
Cons
It's a bit heavy, which makes it difficult to carry.
It has a bulky, wide shape, which makes it a bit difficult to use.
If you aren't careful while using this unit, the surface coating can peel off.
VOOPOO DRAG X Plus Box Mod is a practical, durable, and affordable vape mod. It features a high-quality chipset and offers you impressively fast-firing puffs for an enhanced vaping experience. The dual 18650 batteries will ensure that you can enjoy long vaping sessions. All in all, it's a high-quality digital mod that you can get at a fantastic price!