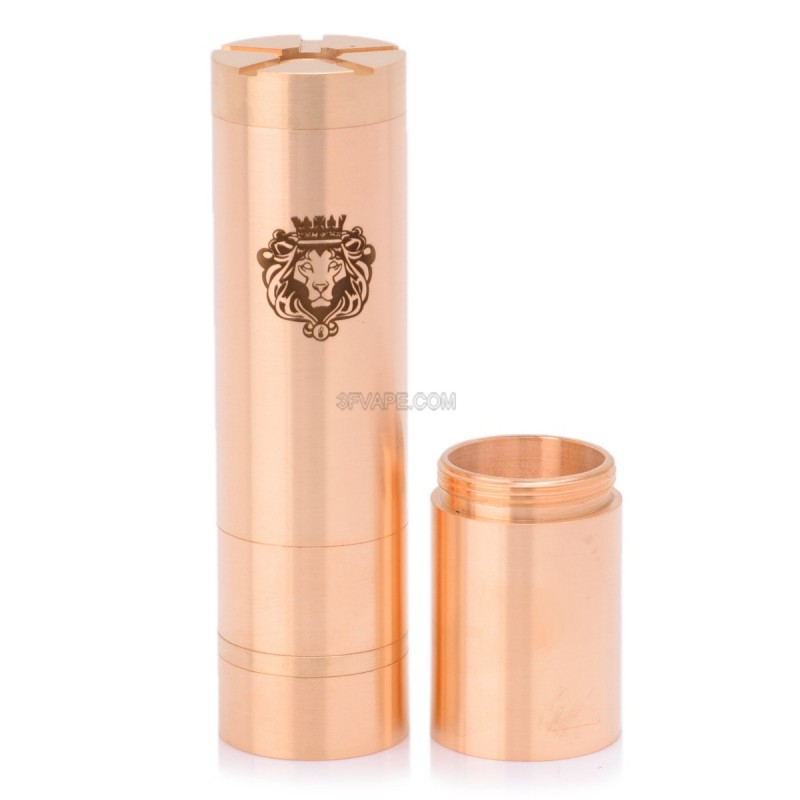 Product Description
King II Styled Mechanical Vape Mod is a fantastic unit with a 510 threaded standard connector. This vape mod is made of brass, which is why it's a bit heavier than the standard plastic or aluminium vape mods available today. It is quite compact and has a sturdy built.
The mod features the classy King logo that is laser etched onto its side. It comes with a spare tube to accommodate a battery of a different form-factor. This mechanical mod is best for hitting hard and offers exceptional threading.
It features a top cap with airflow channels and has an adjustable 510 center pin. The battery contact pins are sturdy and made of copper. It features an adjustable positive contact pin, which is ideal for batteries of multiple sizes.
This mechanical vape mod by King features an easy-to-use bottom spring-loaded, magnetic switch with a locking ring that is reverse-threaded. This boosts the safety of the unit and ensures that the battery doesn't fall out.
This mechanical mod uses a single battery to operate. You can use a battery with three form-factors 18350, 18500, 18650 to run the mod. You will have to buy the batteries separately as the mod does not come with one. With that said, the mod does support both flat top and button top batteries and can easily support batteries with a maximum length of 67 mm.
Pros and Cons of King II Styled Mechanical Vape Mod
Here are some pros and cons of the King II Styled Mod:
Pros
This is a fancy vape mod with an exceptionally sleek and classy look.
The brass build of the mod makes it quite sturdy and durable.
The laser-etched logo adds an unbeatable charm to the mod.
This mechanical mod does not have any complicated features or extravagant modes, which makes it pretty easy to use.
It supports batteries of different form-factors, which means that you can customize your vaping experience according to your liking.
Cons
It ismade of pure brass, which makes it heavier to carry than the standard aluminium or plastic mod.
The mod does not come with a battery, so you will have to buy one separately.
Even though the mod is quite easy to use because it's mechanical, it does not offer any of the compelling features of a digital mod,such as adjustable wattage, temperature control, etc.
King II is a truly one-of-a-kind mechanical vape mod. It's ideal for anyone who loves using classic mechanical mods without any unnecessary flair. However, if you're looking for a modern mod with various protection features, temperature control, and variable wattage, then this product is not for you.