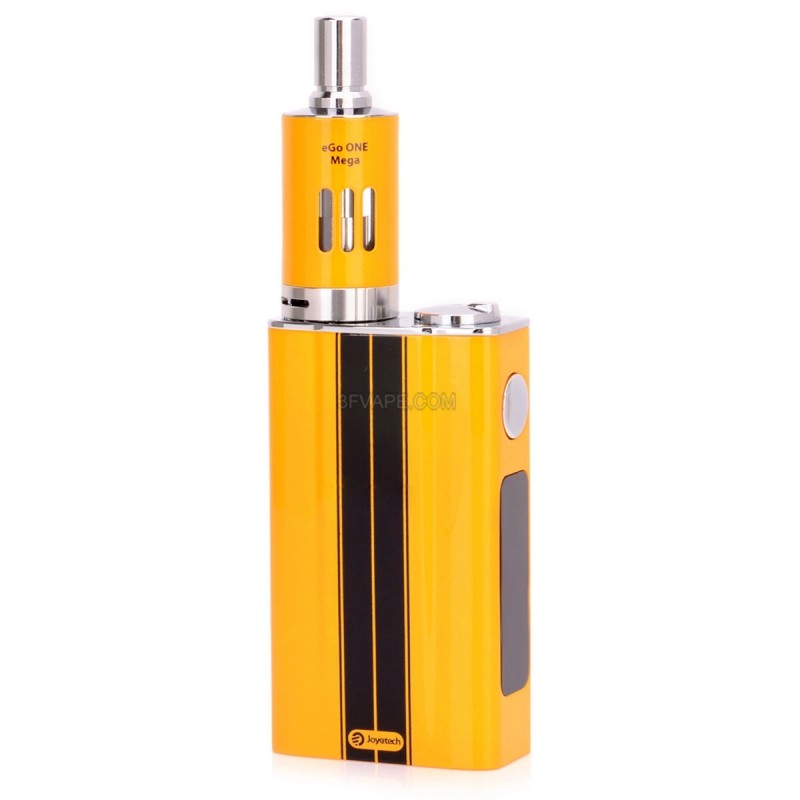 Product Description
The eVic VT Styled vape mod kit has a VW mod, one clearomizer, one silicone sleeve, one 0.4ohm spare coil head, a sturdy 100cm USB charging cable, one US plug power adapter, and a helpful user manual.
The eVic VT box mod is orange in color and is made of aluminium with minor parts and trims made of chromed brass. It features a large OLED screen display, which will display vital information, such as battery life, output wattage, temperature, and resistance. It comes with a powerful, fitted 5000 mAh battery.
The mod offers you a variable wattage range of 1W to 60W. It also provides you with a variable temperature range of 200 degrees Fahrenheit to 600 degrees Fahrenheit (100 degrees Celsius to 315 degrees Celsius). It provides you with a resistance range of 0.05ohm to 1.0ohm at VT mode and 0.15ohm to 3.5ohm at VW mode.
The box mod also features a sturdy, side-mounted fire button, which you can press five times to turn the unit on and off. It has a 510 threading connection, with a spring-loaded brass center pin. The connection doesn't have a locking ring. The unit features 29 air holes on the bottom. It also features a micro-USB charging port.
The eGo ONE Mega clearomizer features an inner tank, made of glass, with a juice capacity of 4ml. It also features a POM and chromed brasshybrid 510 drip tip, which is quite comfortable on the mouth. It comes with a 0.4ohm coil head, sliding adjustable airflow valve, with 2 slits on the AFC ring, and a standard 510 threading connection with a solid center pin.
Pros and Cons of eVic VT Vape Mod Kit with Clearomizer
Here are some pros and cons of eVic VT vape mod kit:
Pros
It provides you with various features, such as temperature control, variable wattage, and resistance. They help you have a dynamic, customized vaping experience.
The mod comes with a fixed battery, which will save you from the hassle of buying a battery separately.
The kit is economically priced and contains everything that you will need to start vaping right away.
The clearomizer features a medium-sized glass tank with good juice capacity, ideal for an occasional vaper.
The 5000 mAh provides you with ample power for a good vaping experience.
Cons
It does not come with some of the screws shown in the product.
Even though the OLED screen on the mod is quite large, the information that it displays is not as readable as it should be.
The mod does not offer an exceptionally powerful vaping experience as it can only go up to 60W.
The eVic VT vape mod kit is a good buy for anyone looking for a convenient, digital mod kit with a fixed battery. It provides you with the basic gear that you will need to start vaping. However, it's not the right fit for anyone looking for powerful clouds as it offers a maximum wattage of 60W.