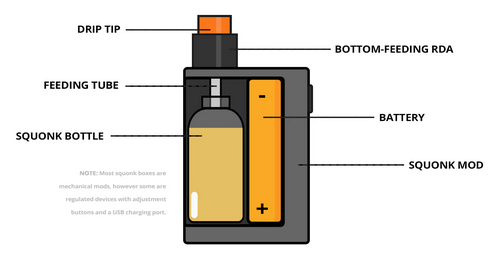 Wondering what is a squonk box? Check out this week's featured blog post to learn about squonk box mods, and how to get squonking.
Squonking is a vaping method that usually involves using a Squonk mod and a bottom-feed rebuildable drip atomizer.
With this setup, you prep your vape by soaking your e-juice into the unit's cotton wick. This is done by using a built-in squeezable e-juice container.
Squonk mods are designed to meet the needs of all styles of vapers, especially those seeking an all-in-one solution, RTAs or RDAs.
One significant benefit to this type of device is that squonk modifications offer larger capacity tanks.
This removes the need to refill your tank as often throughout your day. And you can saturate your wick as needed to enjoy more robust, more flavourful hits.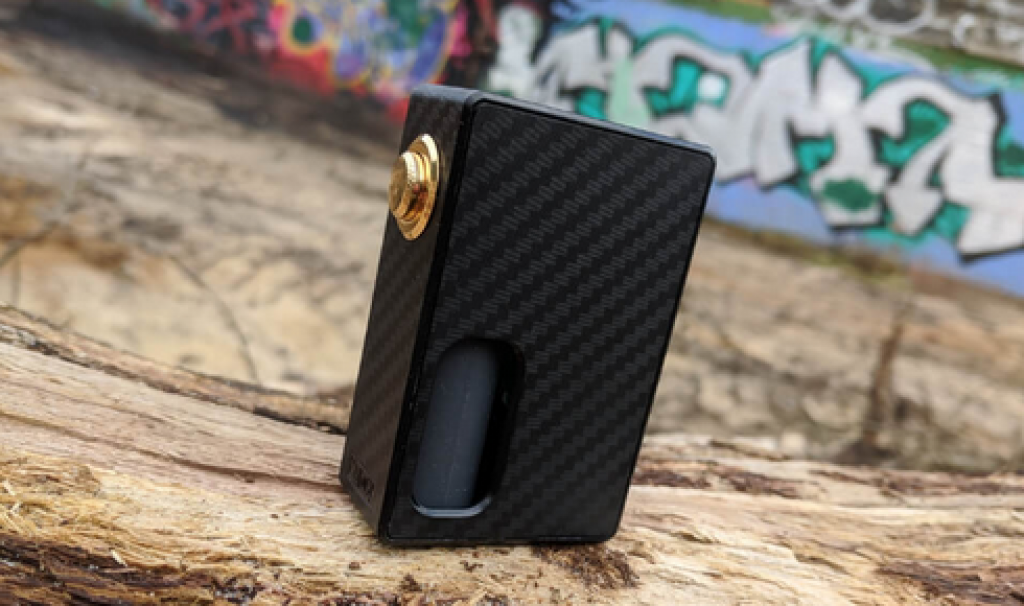 What Are Squonk Mods?
Squonking mods are comparable to rebuildable dripping atomizers in terms of performance. You drip liquid directly into your atomizer as needed with an RDA or rebuildable drip atomizer.
RDAs are popular because they make switching between flavours a breeze, and the process produces much denser clouds and a more robust flavour than when using a regular tank.
However, the issue with RDAs is that they tend to be a bit messy and inconvenient. You have to keep a bottle of e-liquid on you at all times. And the dripping procedure might result in e-liquid all over your kit.
Squonking provides the same results as using a regular RDA atomizers but avoids the need to drip each time by incorporating a solution directly into the design of the mod.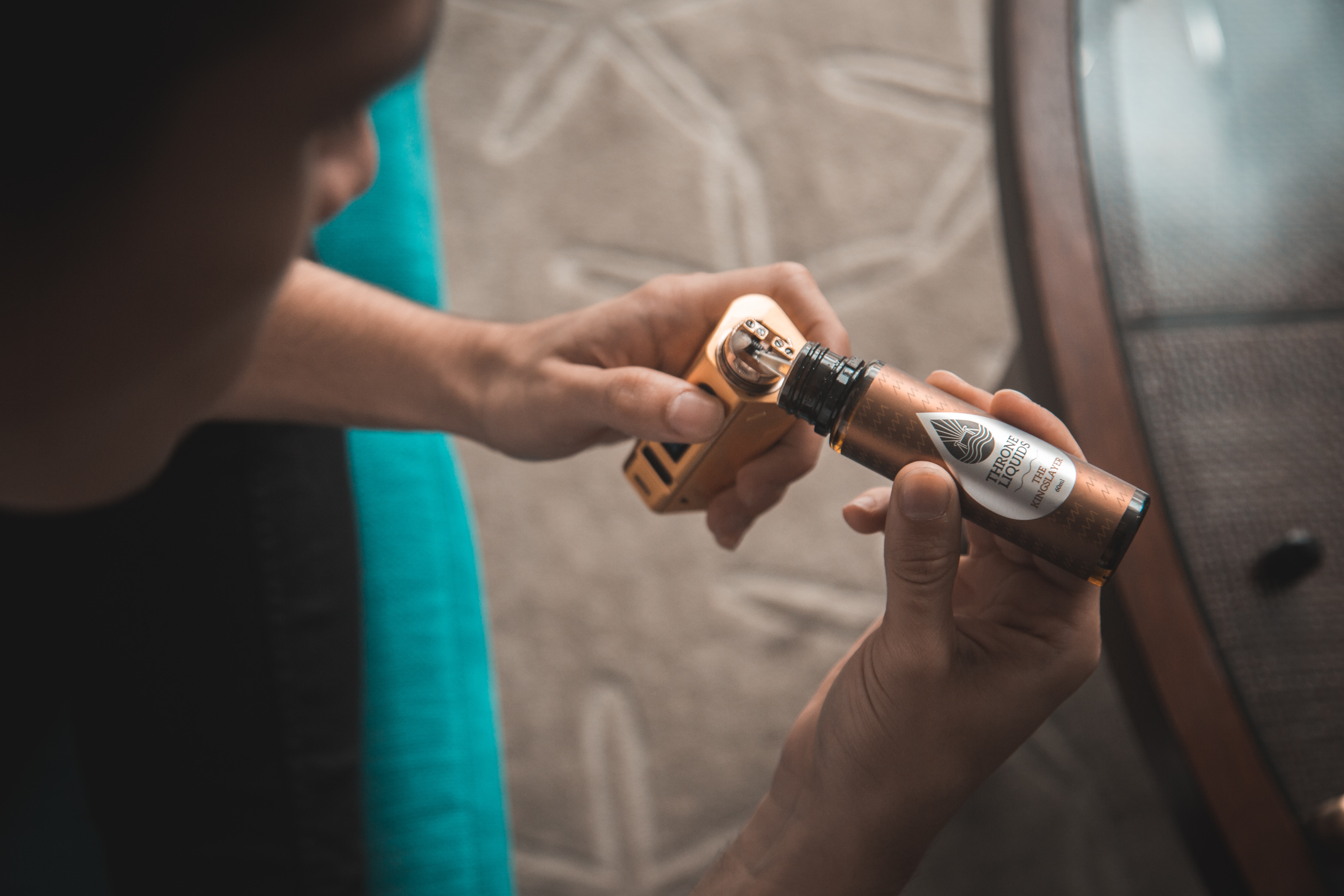 How Does Squonking Work?
Bottom-feeding squonk mods carry your e-liquid supply inside the mod, allowing you to feed e-liquid directly to the atomizer when and as needed.
The squonk hole on the box mod is a tiny orifice that you squeeze, which will deliver a small amount of e-liquid directly to the atomizer and saturate the wick.
Any surplus will flow back into the bottle when you relieve the pressure on the bottle.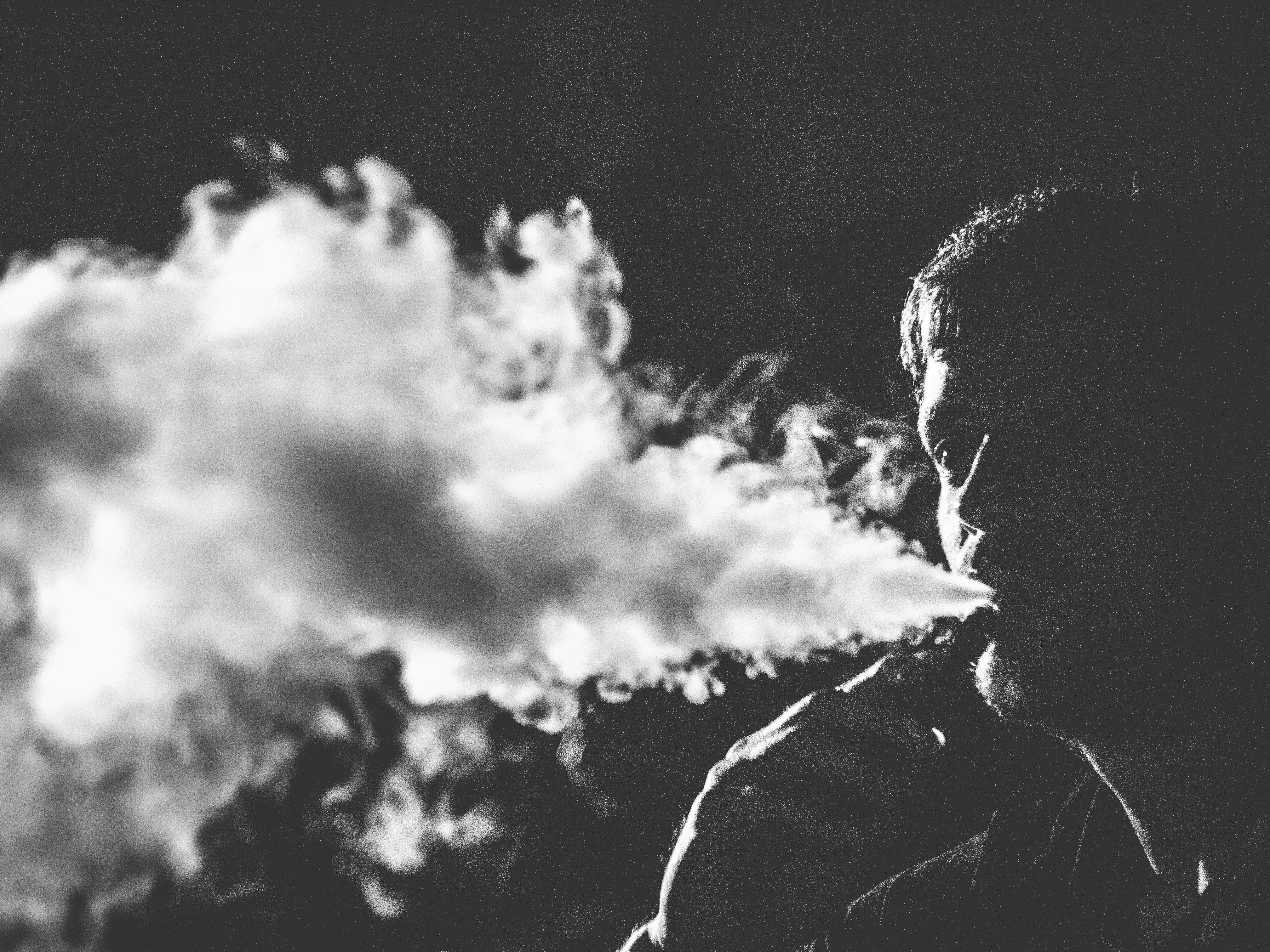 The Different Types of Squonk Mods
You'll sometimes hear of either regulated or non-regulated squonk mods.
Most regulated squonk mods use direct power from the battery. Just like any other traditional type of vape mod, they often include chip technology. This provides users with safety features like short circuit protection, on/off functionality, heat settings, and more.
On the other hand, some vapers prefer non-regulated squonk mods because they provide personalization, and vaping is more of a hobby.
If you're experienced with building vapes, non-regulated devices can be perfectly safe to use.
However, if you are unfamiliar with unregulated devices' lack of safety features, the regulated device is your best option.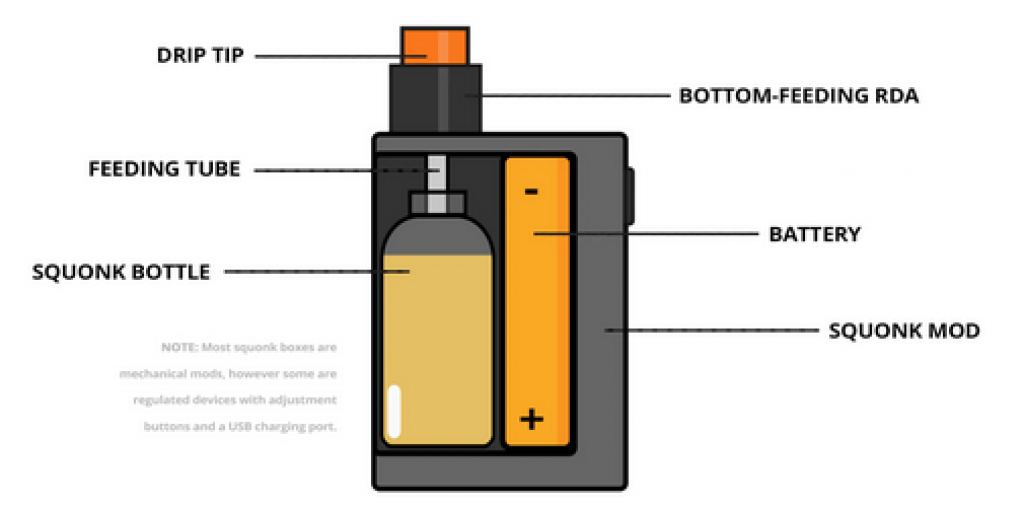 What Is Squonking?
The atomizer on a squonk device is usually bottom-fed, which means you can deliver a solid shot of e-juice each time you want to vape.
Rather than needing to "prime" your device or allow your gravity-fed wick to soak naturally, a squonk device offers a more instant way to satisfy that flavour punch.
You'll receive the best flavour delivery and vapour densities as a result of this style of device.
Note that you can't usually use an RDA with any 510 connectors unless it's been converted or supplied with an appropriate bottom feed pin.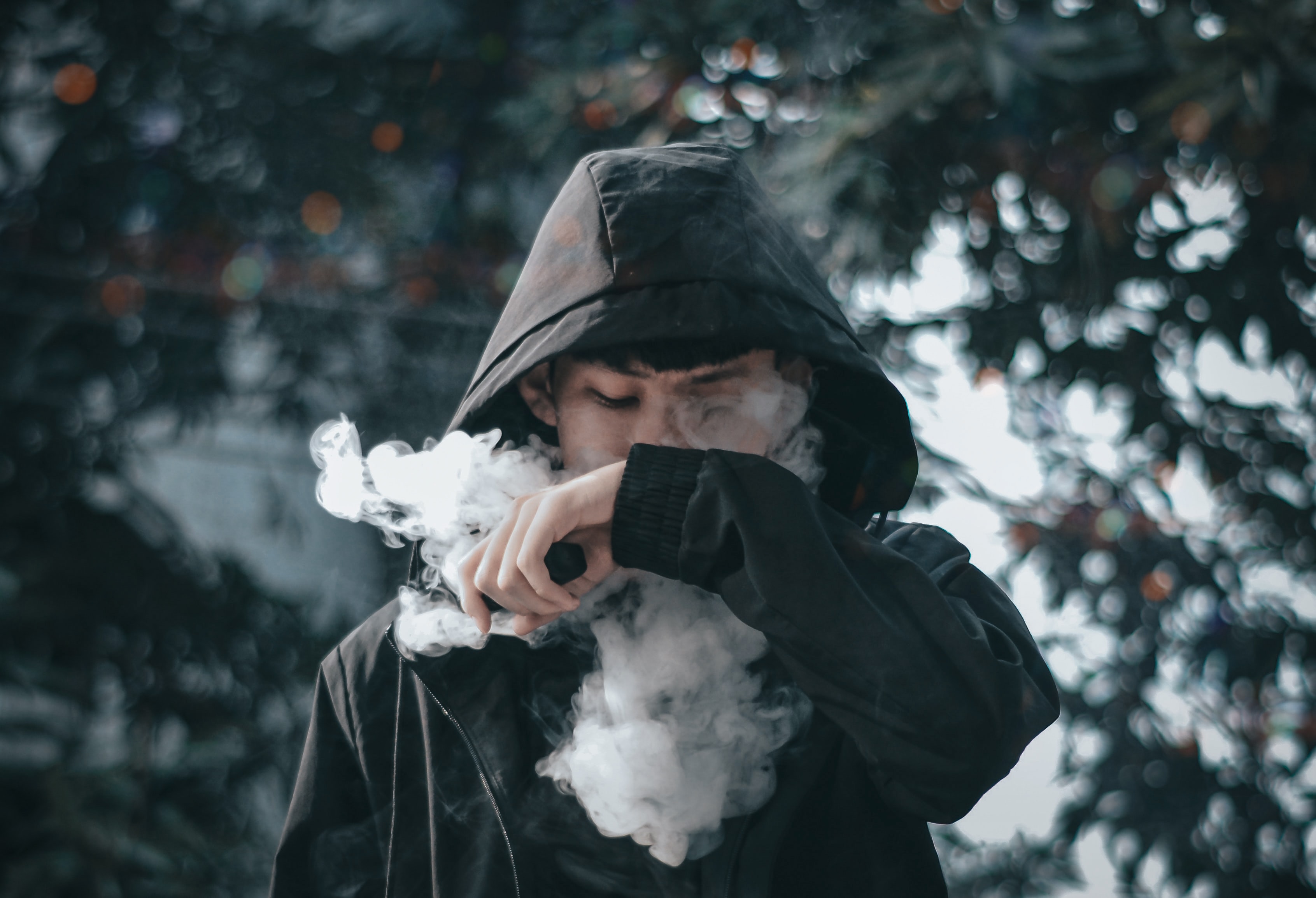 How To Squonk?
A squonk mod with a refillable squonk tank is required to get started with squonking.
Note that squonking doesn't work with standard RDAs.
Therefore you'll need to obtain a bottom feed RDA squonk style mod.
After filling your tank and pressing/squeezing the squonk bottle at the bottom of the RDA, your e-juice is forced into the RDA to soak your wick.
Take a puff after pressing the power button on your mod.
You're ready to start squonking now!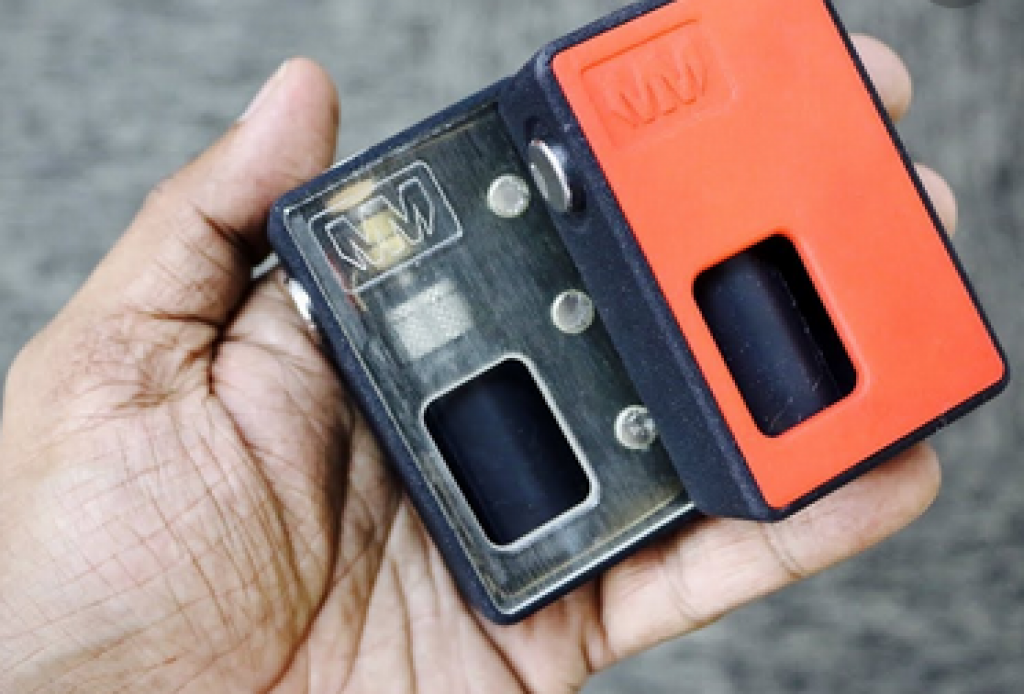 Best Squonk Mods 2021
Let's take a look at a few popular squonk-style mods on the market.
Dovpo Topside 90W
The Vapor Chronicles and Dovpo have collaborated on The Topside.
The DOVPO Topside 90W has up to 90W max output with changeable VW/TC/Bypass mode and is powered by a singular 21700 battery or a 18650 cell with an adaptor.
Also included with the Topside MOD is a 10ml sizeable e-juice silicone container with an easy-to-use top-filling design that efficiently prevents e-juice leakage.
The DOVPO Topside Squonk MOD is also very straightforward because of the 0.96 inch OLED screen and giant fire button.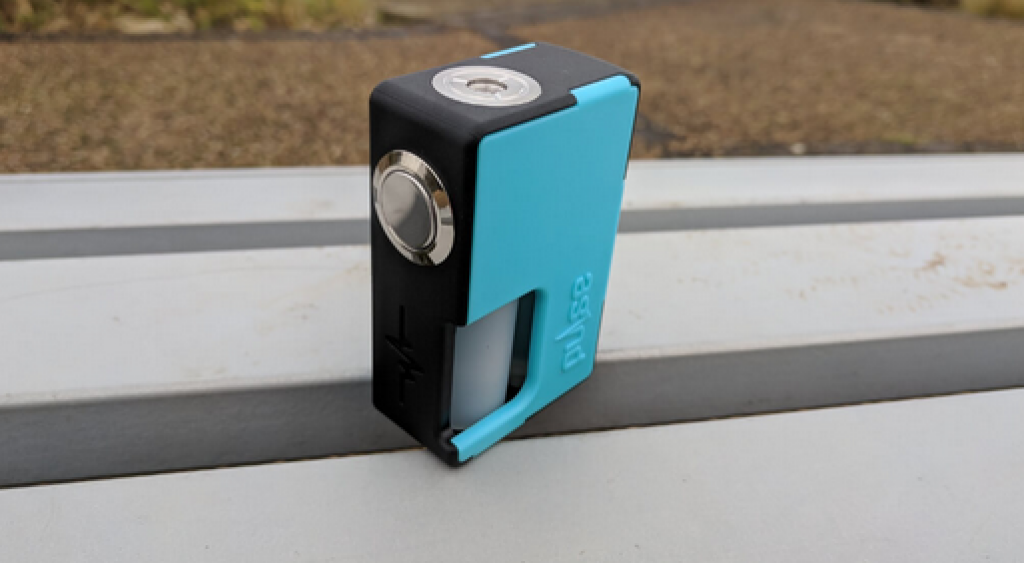 Vandy Vape Pulse V2 95W
The Pulse V2 is the most recent model in the Pulse range, combining the most remarkable features of prior models and adding waterproof technology from the Swell Mod.
They've designed an excellent bottom fill system for the bottle that keeps it firmly in place. It is also aligned with the 510 to avoid any potential complications with the mod's plumbing. This is useful when transferring juice from one side to another.
Geek Vape Aegis
When it comes to long-lasting mods, Geek Vape is the industry leader. The Aegis range includes the latest Aegis Squonker, which caters to all types of vape mods.
As a result, IP67 waterproof, shockproof, and dustproof are included as standard features, which are super handy for those who put a lot of effort into their mods.
Not only can you squonk, but the Aegis can also be converted into a 'normal' vape mod by swapping out the Skeleton.
A single 18650 battery powers this gadget, which can fire up to 100W. It's a top-of-the-line device in both squonk and regular mod, with an easy-to-read 0.96′′ OLED screen on top.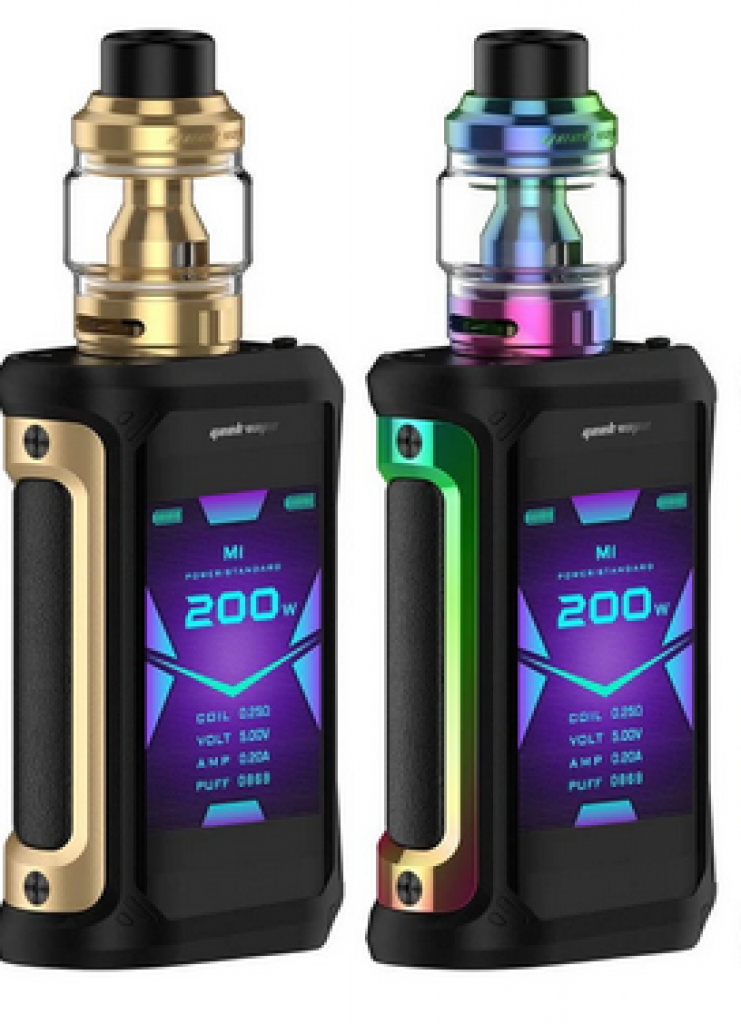 Dovpo Topside SQ
Signature Tips and The Vapor Chronicles have teamed up to create The SQ by Dovpo.
The device is one of the most well-designed squonk mods in recent memory.
It is made of aluminum and has a shot blasted and anodized finish that exudes excellence.
This squonker is a buildable and mechanical mod, so no matter how much you enjoy the appearance of it, it's only recommended for experienced vapers.