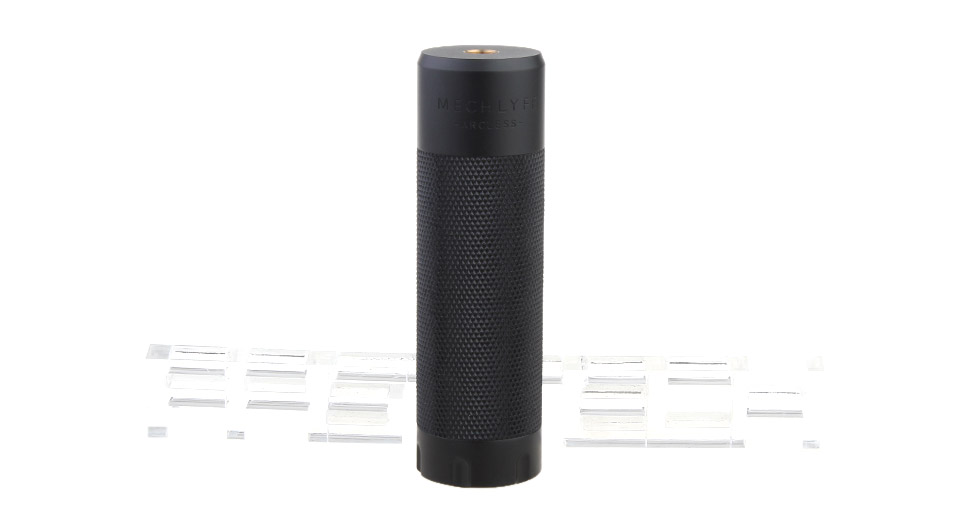 Product Description
The MECHLYFE x AmbitionZ Vaper Arcless mechanical vape mod has a 510 threading connection. Therefore, it can work with many different 510 vape atomizers.The device has a copper construction with an electroplating frosted back, giving the device a premium feel in your hands. You also won't have to worry about it falling from your hands as it has a knurled black sleeve for extra grip.The device is a 27 mm thick tube, soit's easy and comfortable to keep in your pocket or carry around.
The mechanical mod uses as an interchangeable battery, which is sold separately. It's compatible with a single 21700, 20700, or 18650 batteryto power it up. You can recharge these batteries as well using the 18650 adapter in the box. The vape mod does not come with a battery, but that is expected in this price range. That said, the mod does have a self-adjusting battery contact to improve the overall convenience of using it.
What this mechanical mod does come with is an extra acrylic fire pin button. So, you can swap the metal button for this one in case you damage it when traveling. Also, the mod comes with 2 springs and 1 insulating screw so that you can adjust it to your liking.
Pros and Cons of MECHLYFE x AmbitionZ Vaper ArclessVape Mod
Here is an overview of the pros and cons of the MECHLYFE x AmbitionZ Vaper Arclessvape mod:
Pros
Themechanical mod has a robust body with an excellent, ergonomic design that makes it comfortable to hold. The slim design fits in pockets and bags without taking up much space. Moreover, the button placement and design make it easy to fire it up. Also, the ridges on the body provide additional grip to ensure it doesn't fall and lasts longer on the whole.
The mod has a relatively compact size for a mechanical mod that supports a 21700 battery.
The vape mod comes with an 18650 battery adapter in the box, allowing you to charge your battery with ease.
It is compatible with three different types of batteries, guaranteeinglonger battery life and more usage.
The mechanical mod features a silver-plated copper constant contact
The mod also comes with an additional acrylic firing pin.
It has all-around internal insulation protection.
Cons
Theplastic cap in the button's connection feels a little flimsy.
It's a little on the heavier side, weighing 150g.
The mod does not include a battery to operate the device. However, users who already have a vape modwill have one of the compatible batteries. This way, they'll actually save more money.
You can't charge the battery and use the vape at the same with the 18650 battery adapter.
All in all, the MECHLYFE x AmbitionZ Vaper Arcless vape mod offers a good vaping experience with at a great price.