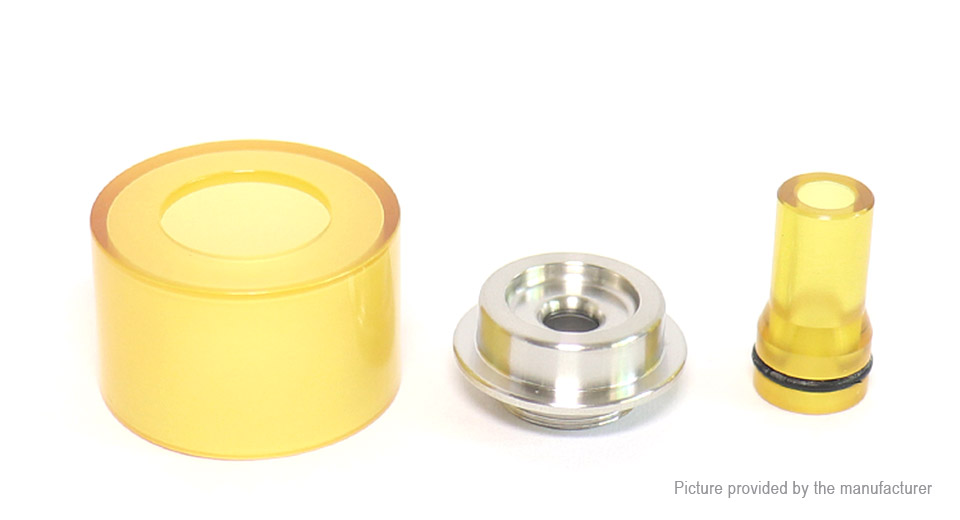 Product Description
The SXK 510 Drip Tip for Patibulum Styled RTA is a vape replacement part that can help restore your vape to full functionality. The drip tip is made entirely from PC, so it's lightweight and high-impact resistant. The PC is translucent white, which is great for users who don't want to alter their vape's aesthetic.
The dimensions of this product are as follows:
Height: 14mm
Depth: 9.5mm
Width: 9.5mm
Product weight: 0.6g
If your vape atomizer's drip trip is starting to show wear and tear, you can replace it with this product by SXK. The product is sturdy and affordable. A quick change with this vape replacement part can improve the longevity of your vape. This product works best for the Vapeasy Patibulum Style MTL RTA and SXK HOLY Patibulum Style RTA vape atomizers. That said, it can work with other vape atomizers with a similar set up.
Pros and Cons of SXK 510 Drip Tip Vape Replacement Part
Here is an overview of the pros and cons of the SXK 510 Drip Tip vape replacement part:
Pros
The replacement part is available at an incredibly low price. Therefore, you won't have to think twice about restoring your vape atomizer to its full glory.
The part is made of PC, which is a strong but lightweight type of plastic. Therefore, installing this part in your vape will not make it any heavier if the original drip trip part was also made of PC. Some drip tips are stainless steel and gold-plated. In that case, this product will reduce the vape's weight from what it was before. So, your vape will be a lot more comfortable to carry around.
The design isn't restrictive as you can use this replacement part on more than one type of vape atomizer. Also, the translucent white won't make it look out of place on whatever vape you install it on.
Cons
The PC material for the SXK 510 Drip Tip may not be as damage-resistant as stainless steel replacement parts. Therefore, they may not be as durable as other similar products might.
The SXK 510 Drip Tip vape replacement part is a fantastic option for users who are looking for a high-quality product at an affordable price. One of the best things about this drip trip replacement part is that it's lightweight but sturdy. Therefore, it'll help make your vape easy to carry around. That said, PC is not the most durable material available in the market. So, you may need to replace this part after some time. However, with an excellent price point, you won't have to worry much about the replacement cost.