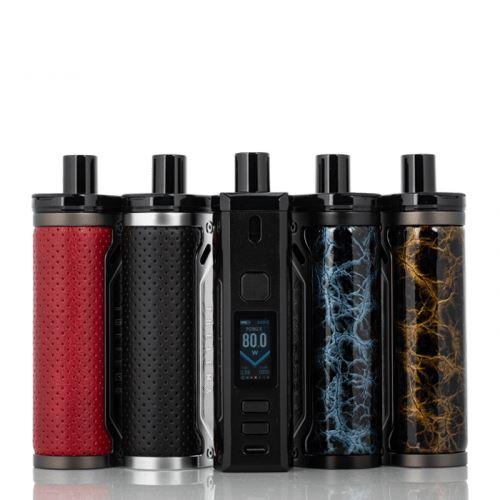 Product Description
Lost Vape Thelema is an exquisitely designed mechanical vape mod. It has a strong matt black finish and a transparent PEI appearance, which makes it easy to see the liquid in the squonk bottle. This mod is made from ULTEM or high-quality leather with brass and stainless steel trims, which provides it with a unique and luxurious feel.
The vape mod box includes a mechanical mod, two 9ml soft silicone squonk bottles, one 18650 battery adapter, and a helpful user manual. The mod requires a single 18650, 20700,or 21700 that provides ample power for an enhanced vaping experience. The batteries are not included in the box.
This mod features a stainless steel 510 atomizer connector that has silver-plated copper positive and negative contacts. It also features a lockable fire button. The 9ml bottle is large enough to fulfill your daily vaping needs. The mechanical mod provides you with a powerful output and hard hits.
Pros and Cons of Lost Vape Thelema Mechanical Vape Mod
Here are some pros and cons of Thelema? mechanical vape mod:
Pros
It has a stunning matt black finish, which results in a luxurious appearance.
The transparent side makes it easy to see the remaining e-liquid in the squonk bottle.
The squonk bottle is large enough to provide you with ample juice for your everyday vaping requirements.
The mechanical mod is designed to provide you with hard hits, which result in an exceptional vaping experience.
The mod provides you with three different battery options, with 21700 being the best one. It will provide you with a powerful vaping experience.
It has a nice, firm switch and fire button.
This mod is quite sturdy and well-made. It is built to last for a long time.
It isn't as lightweight as some other mechanical mods, but it feels super nice and comfortable in
Cons
Since it's a mechanical mod, it doesn't have any protective or secondary features as a digital mod. These include variable wattage and temperature control, which allows you to have a customized vaping experience.
The squonk bottle will rattle with continued usage.
The price is a tad too high for a mechanical mod.
It doesn't come with a battery, which means you will have to buy one separately.
Authentic Lost Vape Thelema Squonk 18650 Mechanical Mod is a high-quality mechanical vape mod that is ideal for a powerful, dynamic vaping experience. Even though the mod is on the pricier side, it has a glamorous appearance. The two squonk bottles are large enough to contain e-juice that will last you all day long. If you're looking for a hard-hitting, classy mechanical mod, then you should certainly get the Thelema!