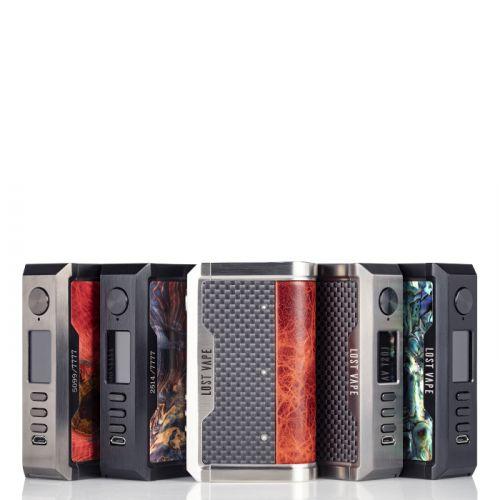 Product Description
Lost Vape Centaurus DNA250C Box Vape Mod is an ergonomically designed, well-built mod. This unit has a sleek and texture stainless-steel construction. The curved edges of the device enable it to have an ergonomic design. It also features incredibly unique, high-quality leather panels, which enhance its elegance.
It has the excellent, cult-favorite evolv DNA 250C chipset, which provides you with powerful features and an enhanced vaping experience. This device needs two 18650 batteries to function. The batteries are not included in the package, so you will have to buy them separately. It also features a 0.90-inch color TFT display screen, which highlights valuable information, such as battery life, wattage, voltage, etc.
This device provides you with an impressive power range of 1W to 200W. It also offers a temperature control range of 200 degrees Fahrenheit to 600 degrees Fahrenheit. It features coil resistance support of 0.1ohm to 3.0ohm. The unit also supports different coil materials, including titanium, nickel, KA1, SS316, Ni80, and Ni90.
CENTAURUS DNA 250C offers USB charging and firmware upgrade for quick charging. It has a built-in onboard charger as well. This device offers accurate temperature control. The DNA 250C board directly measures and controls the temperature of the heating coil during a vaping session. It prevents the coil from becoming too hot, regardless of wicking, fluid, or airflow. This allows you to prevent any undesirable accidents.
Additionally, this unit comes with multiple protective features, such as short-circuit protection, atomizer protection, weak battery protection, low/high resistance protection, temperature protection, and onboard reverse polarity protection. It has a standard 510 threading connection, which is compatible with most batteries.
This mod package contains a Lost Centaurus DNA250C Box Mod, one limited edition badge, one USB one-the-go adaptor, one sturdy USB cable, a helpful user manual, and a warranty card.
Pros and Cons of Lost Centaurus DNA250C Vape Mod
Here are some pros and cons of the Centaurus DNA250C Vape Mod:
Pros
It offers you advanced wattage control vaping with a maximum power of 200W.
The unit is well-built and ergonomic, which makes it long-lasting and easy to use.
It offers multiple protection features, which will enhance its longevity.
The evolv DNA 250C chipset is powerful and dynamic.
It provides you with coil temperature control.
The dual batteries offer excellent power for enhanced vaping.
Cons
This unit is costly.
It does not come with the batteries pre-installed, which means you will have to buy them separately.
The display screen is a bit too small.
Lost Centaurus DNA250C Box Mod is a high-end vape mod with a powerful chipset. It offers variable wattage, temperature control, and all the other features that you need in a high-quality mod. It offers a maximum power of 200w for an enjoyable vaping experience. All in all, it's a great unit for anyone looking for a stylish, well-built, and powerful digital mod.