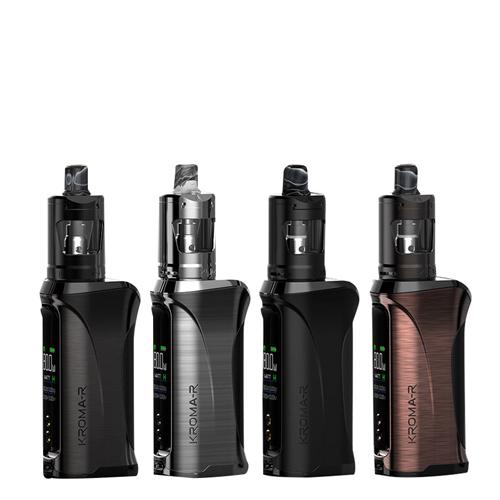 Product Description
The Authentic Innokin Kroma is a 75W vape system that features a 2000mAh internal battery. It comes with the advanced Aethon Temperature Control Technology that enables the user to utilize Stainless Steel 316, Titanium, Nickel 200 heating elements, as well as Kanthal in the power mode. The vape mod? features a soft contour around the chassis? comprising a grip-based structure to offer an ergonomic grip.
It's also accompanied by an OLED screen that's operated by two button adjustments and an oversized firing mechanism. At a quick glance, you should be able to find essential information on the large display matrix.
The Innokin Kroma Kit features a compact and sleek device combined with a triple airflow Slipstream tank. Its awesome design means that you can vape in style. One of the? most amazing features of the vape mod? kit is itsVape while Charging' technology that allows users to vape as they recharge the device using a 2Amp micro USB cable that comes with it.
In addition, the vape system comes with an easy-to-use and slim Slipstream tank with a 2ml capacity. For maximum vapor production, the tank comprises top adjustable triple airflow slots. The Slipstream contains a top-fill option featuring a leak-resistant cup design that helps avoid leaks. To allow for direct lung vaping, the airflow slots measure around 10mm x 1mm. Yet, the draw can be tighter than you expect. Also, the top cap implements a child-lock mechanism as well as a top-cap assembly coil design for hassle-free replacement and removal.
To remove the cap and the entire coil structure, press down on the top-cap and then unscrew anti-clockwise. Place the top cap assembly on a cloth or a table while the tank is being refilled. A 0/8ohm Kanthal coil also comes pre-installed with the SlipStream tank. Like other top-down coil structures, the coil comes into contact with the base of the tank only when the tank has been refilled and the top cap is returned to the tank.
Pros and Cons of Authentic Innokin Kroma Vape System 75W 2000mAh TC VW APV Mod Kit
Let's now take a look at some of the pros and cons of the incredible Innokin Kroma Vape System:
Pros
Aethon temperature control chipset
2000mAh battery capacity
Submerged tank design
Variable Wattage between 6.0 and 75.0 W
High-quality, OLED display screen
2 ml of juice capacity
Precision temperature control: 150 degrees C to 315 degrees C(300 degrees F-600 degrees F)
Fast, compact, and powerful device
510 threading connection
Cons
Tight draw on the Slipstream
Quite expensive
This was our take on the Authentic Innokin Kroma Vape System 75W 2000mAh TC VW APV Mod Kit Review. To summarize, the vape mod? comes with loads of features and is visually appealing. Efficiently designed with performance functionalities in mind, the device provides an outstanding stealthy platform for regular use.