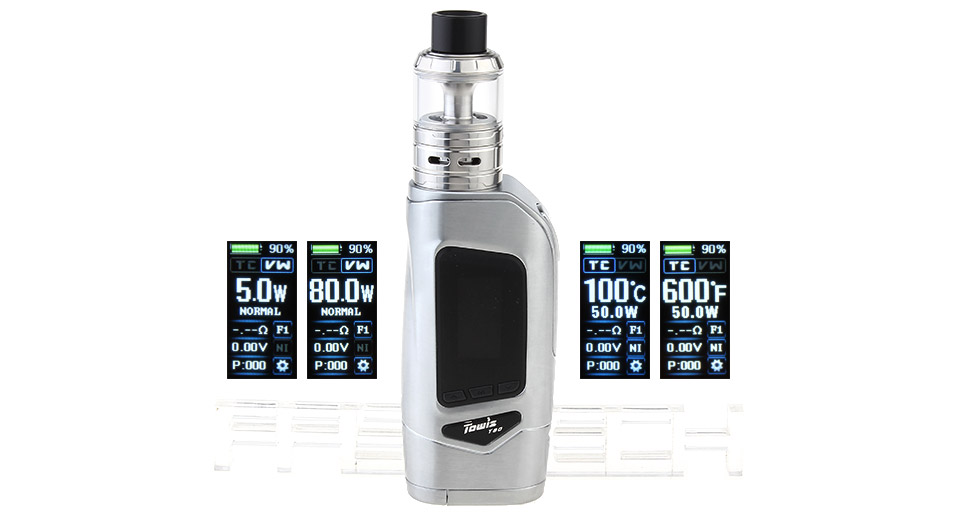 Product Description
Hcigar VT Inbox Vape Mod Kit includes a Hcigar VT Inbox VW/TC Box Mod, an RDA Atomizer, a sturdy USB cable, an English user manual, one 8ml bottle, an accessory pack, and a cap. The box vape mod is run by Evolv DNA75 chip with a variable wattage range of 1W to 75W.
The mod has a sleek zinc alloy construction and it is quite lightweight and compact. It provides you with an exceptional temperature control feature and offers a temperature range of 200 degrees to 600 degrees Fahrenheit (100 degrees to 300 degrees Celsius).
The mod features a customized fashion LED firelight, an ideal 510 threading connection, and a micro-USB port. It is run by a single, high-rate 18650 battery with a maximum length of 65 mm. The battery is not included in the mod kit.
You can use the USB port to charge the battery and to connect the box mod to your computer. This way, you can customize the unit via the Escribe software. What's more is that the VT Inbox mod is also squonk-friendly and features a unique inner 8ml bottom feeder bottle. With this unit, you can pick your favorite Ni, SS, or Ti coils.
Hcigar's vape mod kit also comes with a stainless-steel Maze V2 RDA atomizer. This atomizer has a DIY design with single or dual heating wires. You can easily rotate the upper cover of the atomizing chamber. It features a liquid-leading pipe electrode, which can conduct anode current and offers an e-liquid filling technique. It has a 510 threading connection and bottom adjustable air holes.
Pros and Cons of Hcigar'sVT Inbox Vape Mod Kit
Here are some pros and cons of Hcigar'sVT Inbox box mod kit:
Pros
The build of the box mod and the atomizer is of excellent quality.
The high-quality Evolv DNA75 mod unit can easily fit in your pocket and is user-friendly.
You can use the USB unit to customize the unit via the Escribe software.
The squonk bottle is quite fun and easy to use.
The mod features easy-to-use buttons and a handy display screen.
The kit comes with an incredibly helpful user manual.
It provides you with excellent value for the money.
The mod offers exceptional clouds and great taste.
Cons
The kit does not include a battery, which you will have to buy separately.
The panel magnets are of poor quality and the panel can easily fall off.
Hcigar'sVT Inbox vape mod kit produces powerful, controlled, and flavorful clouds. The mod is quite easy to use and you can customize your settings by attaching it to your computer via the USB port and using the Escribe software. Overall, this Hcigar kit offers a truly unique and fun vaping experience.