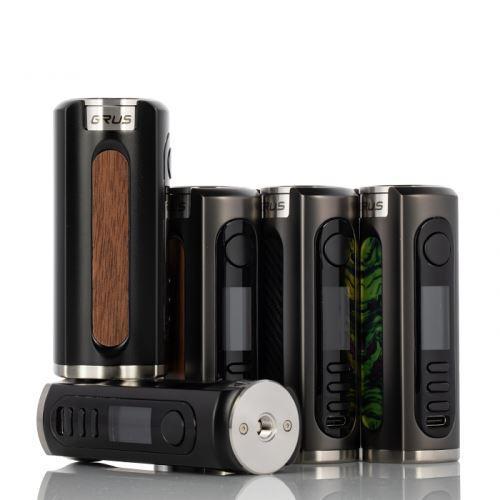 Product Description
The Lost Vape Grus vape mod is a 100W power output box mod with a variable power range. The variable wattage also helps with the temperature control on this box mod. You can adjust the temperature using the SS/TI/NI mode while using the device. This way, you can tailor your vaping experience to your preferences, allowing you to maximize power or save battery.
This high-end box mod doesn't come with a battery in the box. However, it does accept more than one type of single battery to power the 100W output. The batteries it accepts include a 21700, 20700, or 18650 Lithium-ion battery, offering users more choice with a power supply.
Regardless of which one of the three batteries you use, you can charge them using the USB Type-C port on the mod. The product comes with a USB Type-C cable in the box. Also, you can view the battery percentage and other settings, like temperature control, on the TFT display screen, which is a 0.96-inch color screen for better visibility and functionality.
The body on this vape mod is a durable zinc alloy, preventing it from damage during commutes. It also features multiple protection systems to ensure that the box mod lasts a long time.
The Lost Vape Grus mod uses a 510 connector for easy parts replacement. It is also compatible with tanks up to 30mm.
Pros and Cons of Lost Vape Grus Vape Mod
Here is an overview of the pros and cons of the Lost Vape Grus vape mod:
Pros
The box mod has variable wattage control, ranging from 5W to 100W. Thus, it provides different vaping experiences and is suitable for different types of users.
This vape mod supports fast charging with a USB Type-C charging port on the device. There's also a USB Type-C cable in the box too.
It has 4 protection systems, which include overheating protection, weak battery protection, short-circuit protection, and 10 seconds over-time protection systems.
The box mod has a temperature control feature with temperatures ranging between 200 and 600F/100 and 300C. The menu is simple and easy to use.
It has a solid and comfortable build overall.
Cons
The vape mod does not allow you to change the wattage when using the Temperature Control (TC) mode.
The box mod has a relatively low Ohm reading.
It also does not show the voltage when using it in VW mode.
The mod does not include the battery to run the device.
The box mod is slightly on the larger side, and that can be a problem for some users.
The Lost Vape Grus vape mod is a device that's great at what it was designed to do. While there are some restrictions with functionality, the solid build, the TC, and fast-charging make it worth considering at this price range.