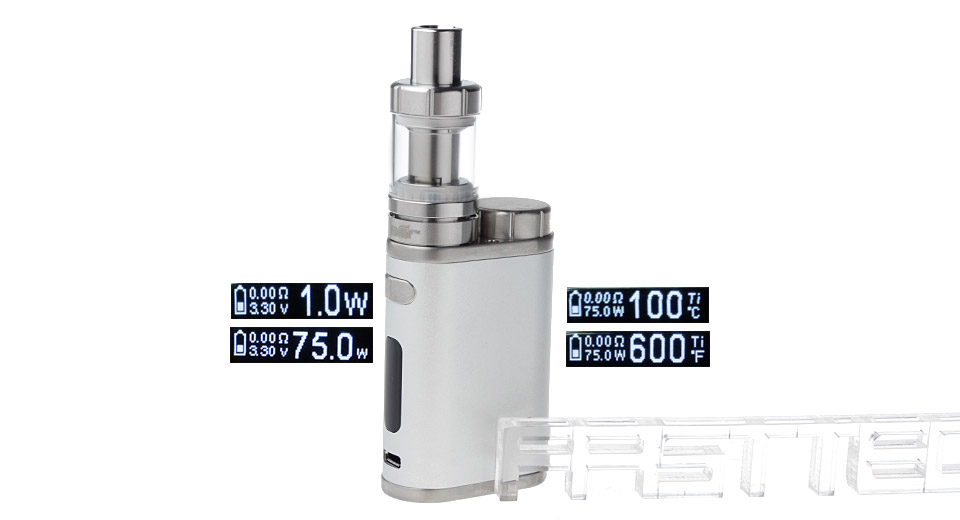 Product Description
iStick Pico 75W Vape Mod Kit features a stainless-steel iStick Pico VW TC mod, a clearomizer, one USB cable, one spare coil head, and two silicon rings. The Pico vape mod is a small, stylish, black mod with silver trims. Its small size makes it perfect to carry around with you.
The sleek box mod offers a variable wattage range of 1W to 75W.? The mod runs on a single 18650 battery, which is not included in the kit. It has a USB charging port, which you can use to charge your battery. It also has a standard 510 threading connection.
Featuring a MELO 3 Mini clearomizer, it has a stylish glass tank, which has a diameter and height of 22mm and 25mm,? respectively. This clearomizer features a removable 510 drip tip, which is quite comfortable to use. It has a top filling system and offers a 2ml juice capacity.
This clearomizer also provides you with adjustable airflow control as it has 1 air hole on the top and one on the bottom. Just like the vape mod, the clearomizer also features a 510 threading connection. It comes with a sturdy center pin and a coil head.
Pros and Cons of Authentic iStick Pico Vape Mod Kit:
Here are the pros and cons of Authentic iStick Pico 75W TC VW APV Kit:
Pros
It's a great little starter kit for anyone looking for a vape mod that is easy to use.
It offers temperature control and variable wattage.
This is an incredibly compact kit in which both the mod and the tank are small. This makes it quite easy to carry while travelling.
The bundled Melo tank is of great quality. It enhances your vaping experience.
The small size of this mod and its stainless-steel composition makes it quite easy to hold.
It offers great battery life.
All the vaping modes work exceptionally well. You can change the modes by using the buttons, which are rattle-free.
This vape mod kit is quite pocket-friendly as well.
The charging socket has an ideal location, which allows you to put the vape mod vertically while it's charging.
The display screen has an appropriate size and offers easily legible information.
Cons
Every time you remove the battery from the unit and screw it back on, the device will automatically drop your wattage by 0.1 watts.
It does not come with a battery, so you will have to buy it separately.
The iStick Pico Vape Mod Kit is an ideal vape kit for beginners and expert vapers alike. It's small and ergonomically-designed. It offers variable wattage and temperature control features. If you want a quality product at an affordable price, then this kit is the right fit for you.