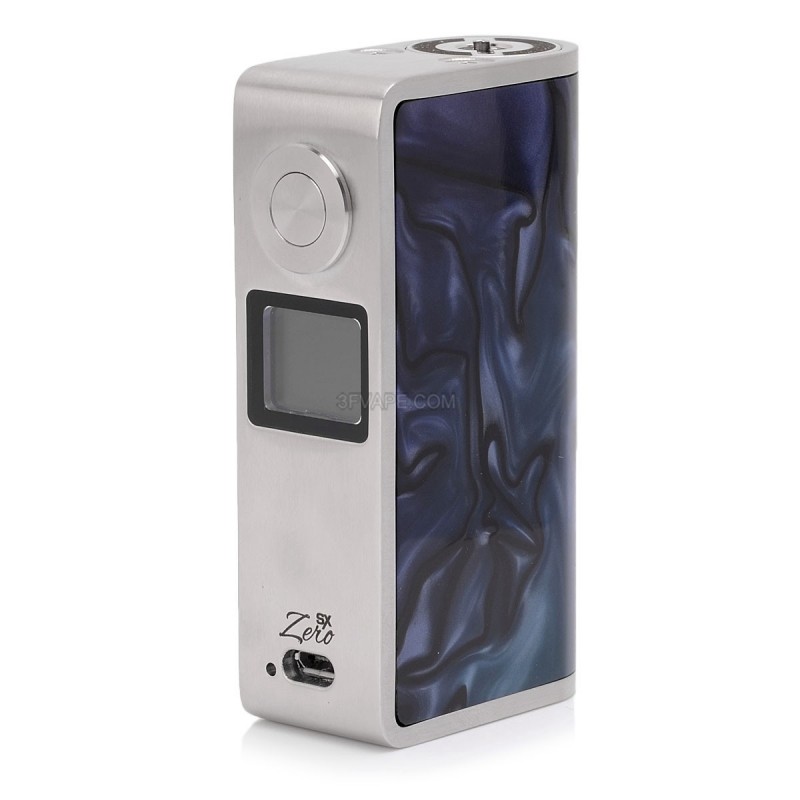 Product Description
SXK Billet Box 70W TC VW APV Mod Kit is a chic and modern vape mod kit. It's a high-quality device manufactured by SXK. It comes with a new and improved chipset with ARM architecture. It features incredible temperature controls. The device steadies the temperature between 200 degrees and 600 degrees Fahrenheit (100 degrees to 300 degrees Celsius).
SXK's BB style mod kit has a sleek translucent acrylic construction (minor parts are not made of acrylic.) This device features three main parts the main body, front panel, and black panel. It's powered by a 18650 battery, which comes with the vape mod kit and is also sold separately.
The kit comes with a sleek and durable USB port for charging. The box mod features an internal OLED display and menu controls. Apart from temperature control, the device also offers variable wattage and offers a maximum watt output of 70 watts. The box mod kit also has a black Delrin drip tip, which helps enhance the flavor of the vapors and makes for an easy vaping experience.
It also includes a Kanger Subtank Mini Rebuildable deck with a bridge, a Nautilus BVC coil adapter, and a KangerSubtank coil adapter as well. It offers a minimum Kanthal resistance of 0.16 ohms. The device comes with easy-to-navigate arrow buttons, which you can use to adjust the wattage and the temperature.
Pros and Cons of SXK BB Styled 70W TC VW APV Vape Mod Kit
Here is an overview of the pros and cons of the SXK Billet Box Styled 70W TC VW APVvape mod kit:
Pros
The good-quality Delrin drip tip offers exceptional heat resistance, is softer on the lips, and has a smooth non-stick surface. All of this helps improve your vaping experience.
The construction of the box mod is mostly acrylic, which makes the vape mod quite lightweight and easy to carry.
This billet box mod kit offers good value for its price.
It comes with a18650 battery,so you will not have to buy one on your own.
Cons
One of the main advantages of theSXK Billet Box 70W TC VW APV vape mod kit is also one of its biggest issues. The lightweight acrylic construction makes this mod somewhat fragile. You will have to be careful while using it; otherwise, the mod might crack in places.
You cannot seal the bottom connection of the SXK billet boxes, which means that liquid can easily get in and ruin the board.
Anything with a high alcohol content can crack the vape billet box mod.
On the whole, the SXK billet box 70W TC VW APV vape mod kit offers a good vaping experience. The device is lightweight and ergonomic. It comes with wattage adjustability and temperature control features. The Delrin drip tip that comes with the box mod offers you exceptional comfort while vaping.