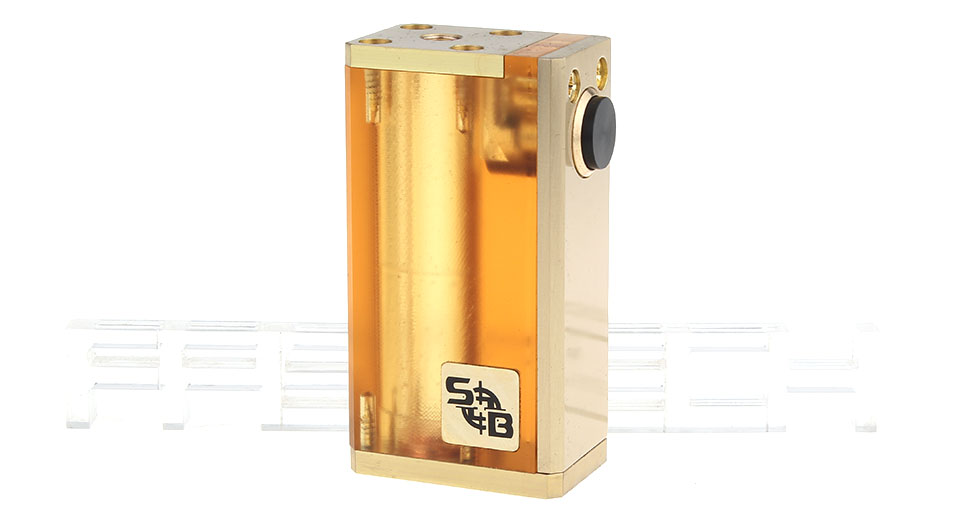 Product Description
SOB Styled Hybrid 18650 Mechanical Mod Kit includes one SOB mod and atomizer set, one Allen key, two screws, and two O-rings. The SOB mechanical mod has a sturdy construction of brass and POM. It features handy hybrid connections, which means that you can connect the atomizer directly to the battery inside the mod.
This mechanical unit also has a brass top and bottom, a negative cap with a copper construction, and a durable, easy-to-use, large Delrin button on the side. The device requires a single battery with a form factor of 18650 and supports a maximum battery length of 65 mm. The battery does not come with the device, which means you will have to buy one separately.
The sleek SOB atomizer has a stainless steel construction. It includes a removable stainless steel drip tip that is exceptionally easy on the mouth and ensures an enjoyable vaping experience. This atomizer has a deep juice well, which ensures that your vaping session is extended. It has a PEEK insulator to ensure the device remains stable at high temperatures.
This atomizer has an adjustable airflow system with four well-defined air slots on its sleeves. This system allows you to customize your hits and manage the intensity of the clouds. It also features a two-post deck for easy building. The unit has a standard 510 threading connection and an overall diameter of 24 mm.
Here are the dimensions of this product:
Weight: 224 g
Height: 109.5 mm
Depth: 25.5 mm
Width: 40.5 mm
Pros and Cons of SOB Styled Hybrid 18650 Mechanical Mod Kit
Here are some pros and cons of the SOB Styled Hybrid 18650 Mechanical Mod Kit:
Pros
The hybrid mod ensures direct connection to the atomizer, which enables better power transfer. It also provides the user with a harder, faster, and more intense hit.
It's a well-priced mod kit with a hybrid mechanical mod and an easy-to-use atomizer.
The adjustable airflow system ensures customized hits and intense flavor output.
The drip tip is super comfortable and easy to use.
The atomizer features a PEEK insulator, which protects your mod, battery, and the atomizer itself from short-circuit.
Cons
The kit does not include a battery, so you will have to buy one.
It does not offer various customizable features, such as variable voltage or wattage.
The mechanical mod is on the bulkier side, which can come in the way of easy maneuverability.
SOB Styled Hybrid 18650 Mechanical Mod Kit is a practical, sturdy, and customizable kit with many compelling features. The hybrid nature of the mechanical mod ensures that you get powerful, intense hits from it. The adjustable airflow and PEEK insulator of the SOB insulator also enhance your vaping experience in numerous ways. All in all, this mod kit is a sensible and smart buy for both novice and expert vapers.