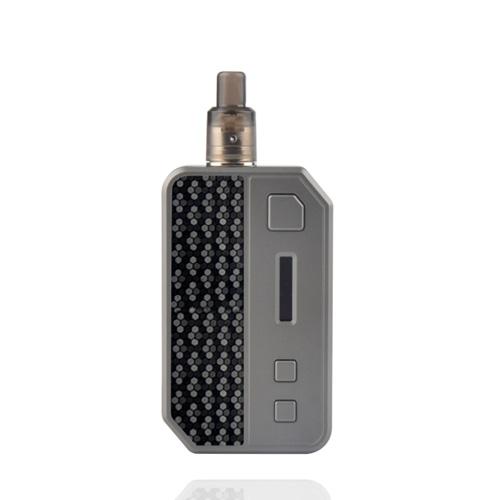 Product Description
The Pioneer4You iPV 2S is an incredibly ergonomic, compact vape mod. It comes with slightly curved edges that make it quite easy to hold and add to its sleek appearance. The mod is made with sturdy, durable, and lightweight Anodized aluminium. It's a variable wattage box mod with an output power range of 7.0W to 60.0W. It also offers you 5 watts modes, starting from 10W and ending on 60W. All the modes provide you with the flexibility of 0.1W increments and decrements.
The mod also offers a voltage output of 3.6V to 8.5V, voltage input of 3.2V to 4.5V, and current output of 1.3 Amps to 25 Amps. It has a 510 threaded connection. This vape mod also has a feature to protect you from a high input voltage. It will provide you with a warning so that you can protect your device from damage.
This compact vape mod is powered by a single 18650 battery, which does not come with the mod. It offers a maximum supported battery length of 65mm. It offers a good efficiency of 93% and comes with an atomizer resistance range of 0.2 Ohms to 3.0 Ohms. Pioneer4You iPV 2S box mod also provides the user with low resistance, low voltage, reverse polarity, short circuit, and overheat protection.
The box contains a VW mod, a sturdy 50cm USB cable, one screwdriver to unhook the back lid, 2 screws to fasten the back lid to the device, and one comprehensive user manual.
Pros and Cons ofPioneer4YouiPV 2S Compact Vape Mod:
Here are some pros and cons of the Pioneer4You iPV 2S:
Pros
This mod has an exceptional build quality and the device is built to last a long time.
It's a compact, lightweight vape mod, which makes it quite easy to carry.
This mod offers a wide variety of protection features and also comes with 5 customizable wattage profiles.
The mod will provide you with your ideal wattage until the battery runs out.
It provides you with excellent value for the price.
The display screen is the ideal size with a clear display window.
The buttons on this box mod are small but well-built and convenient. You don't have to apply too much pressure to press them and they don't rattle at all.
Itcomes with a helpful user manual.
Cons
The back lid does not have magnets for easy access. Instead, you have to attach the lid to the device with the help of two tiny screws, which makes it a bit inconvenient to access or replace the battery.
The mod does not come with a battery, which means that you will have to buy one separately.
Pioneer4You iPV 2S is an incredibly compact vape mod with a sleek design. It's a lightweight, variable wattage box mod with convenient safety features. It offers 5 different wattage profiles for a customized vaping experience.