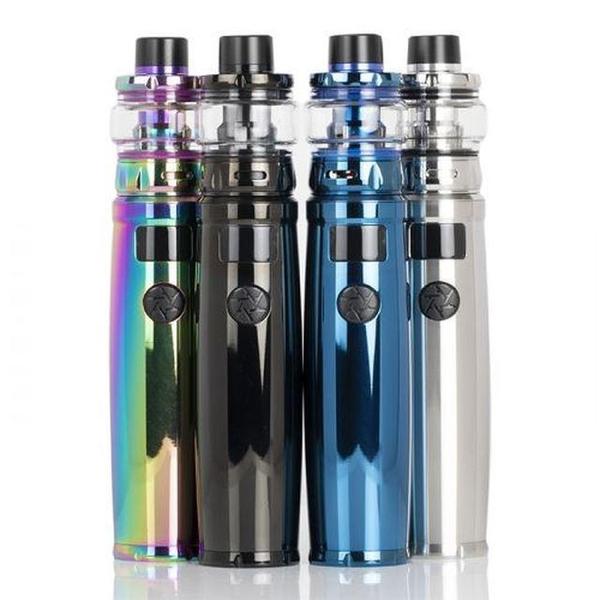 Product Description
Uwell's Nunchaku 2 Vape Mod is a sleek and stylish mod made from stainless steel and polycarbonate. Its ergonomic, compact design makes it quite easy to hold in your hands. The box contains a Nunchaku 2 Mod, one battery sleeve, a sturdy micro-USB cable, and a helpful user manual.
It? is powered by a single battery with a form factor of 18650, 20700, or 21700. Even though the mod comes with a battery sleeve, the batteries are not included in the package.This unit also charges super-fast due to the 5V/2A fast charging.
Uwell's Nunchaku 2 offers a power range of 5W to 100W. This dynamic range provides you with ample flavor and cloud possibilities. This device features a 6-axis motion sensor, which works in tandem with the UWELL BEIN chip. It eliminates the need for the "+/-" buttons, which makes this unit even more compact.
It also comes with multiple work modes, such as power, TCR, and mesh, making? this unit ideal for novice and expert vapers alike. You can use the motion sensor to adjust the wattage or switch between the different vape modes.
This stylish vape mod? provides you with multiple protection features. These include short-circuit protection, temperature protection, low voltage protection, and reverse battery protection.? It's fitted with the new BEIN chip, which comes with multiple circuit protection functions as well.? It provides you with fast firing and reliable performance capabilities. Additionally, the PCBA is moisture-proof and dust-resistant, which helps it protect the core unit of the mod.
Pros and Cons of? UwellNunchaku 2 Vape Mod
Here are some pros and cons of the UwellNunchaku 2 mod:
Pros
This stylish mod has a uniquely compact and ergonomic design, which makes it quite easy to use and carry around.
It's an exceptionally fast-firing mod.
It offers multiple protection functions, which help promote its durability and extend its life.
The mod comes with a unique 6-axis motion sensor and a high-quality UWELL BEIN chip with added protection.
It provides you with the option to choose multiple batteries as it is compatible with 18650, 20700, and 21700 batteries.
It offers multiple vaping modes for a dynamic and customized vaping experience.
This mod box includes a comprehensive user manual, which helps you understand how to use the motion sensor to change the modes.
Cons
This mod does not come with any batteries, so you will have you buy them separately.
The motion sensor can be a bit difficult to use for novice users.
UwellNunchaku 2 vape mod? is a truly unique unit with multiple features and functions, such as temperature control, reverse battery protection, and more.This mod offers a customized and safe vaping experience with flavorful, strong clouds. With its wide range of vaping modes and variable wattage, this device is ideal for both novice and expert vapers.