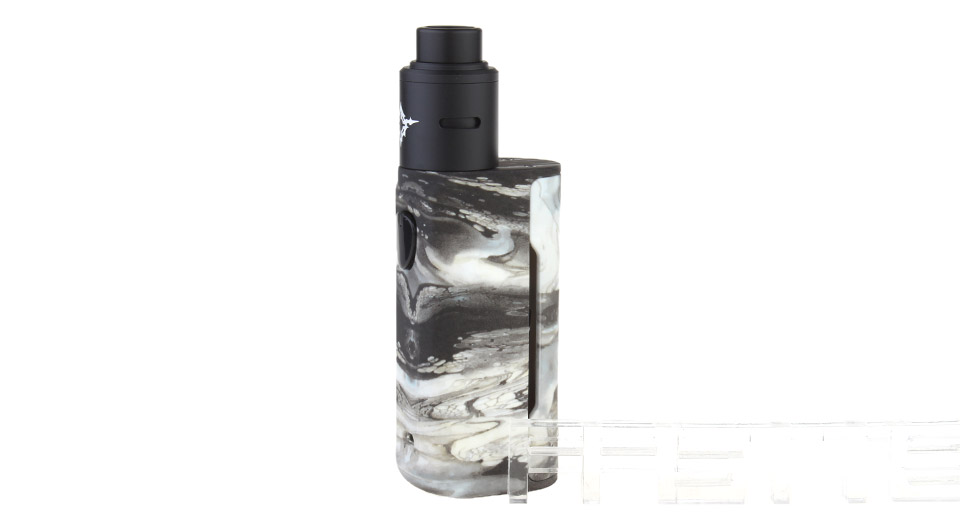 Product Description
The RincoeManto Beast vape mod offers a whopping 228Wpower output for a powerful vaping experience. You can also adjust the output voltage levels on 5 different levels to suit your requirements and feel.
The mod needs dual 18650 batteries, which guarantee excellent battery life even with the 228W power output. However, you will have to purchase the batteries separately. What's great about this kit is that it has fast-charging via a Type-C charging input. Therefore, your mod will be ready to use in no time, which is useful when you're consistently on-the-go.
What also makes this vape mod great for travelling is that it's ultra-lightweight, totalling 77g. It has a PC frame that makes it light as well as durable. Also, its curved design makes the mod comfortable to use.
RincoeManto has multiple protection systems to ensure the product lasts long and doesn't put you at risk. These systems include reverse battery protection, over-heating protection, low voltage protection, short-circuit/overload protection, and 10 seconds cut-off protection.
Pros and Cons of RincoeManto Beast Vape Mod
Here is an overview of the pros and cons of the RincoeManto Beast vape mod:
Pros
The kitis lightweight and comfortable to hold. So, you won't have to worry about it once you keep it in your bag or pocket. The material used is also high-quality, and PC is typically a high-impact resistant material.
Its 228W power outputoffers more power with each puff, letting you feel the hit with ease.
The vape mod has 5 voltage output options, allowing for a more personalized vaping experience.
One of the best things about this box mod is that it has a Type-C charging port. A Type-C port promises significantly faster charging than a Micro USB charging port. This way, you can get enough battery even if you don't charge it for long.
Cons
The vape mod does not include the dual 18650 batteries in the device. While it may be a hassle to acquire, no batteries can be an advantage. If you already have these batteries from before, you will be saving money by purchasing a vape mod that doesn't include the batteries' price.
The PC material may not be damage-resistantas stainless steel mods.
The RincoeManto Beast vape mod may not be the best device you can get, but it's great in its own right. Its PC build offers excellent portability with an ultra-lightweight design. In addition to that, it has a 228W power output, which is difficult to find in this price range. The inclusion of a USB Type-C charging port is also a welcome surprise at this price point. One major issue with this device is that it's not useable right out the box because it doesn't have batteries.